Giving Back, Hokie Style
Giving Back, Hokie Style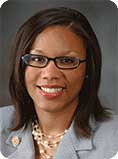 Some people love college so much they just keep coming back. That's what happened to Tysus Jackson, a 1999 Saint Mary's graduate whose passion for education led her to jobs at the Indiana University Foundation, Wabash College, and finally, Virginia Tech University.
After serving as Virginia Tech's director of development for multicultural affairs, Jackson became director of development for its College of Liberal Arts and Human Sciences in 2005. "It's a really good fit for me," says Jackson. "I love the liberal arts." Her current job lets her stretch intellectually, since she is responsible for fundraising for 16 academic departments.
At Saint Mary's, Jackson majored in sociology and political science with a minor in women's studies. Yet she says academic preparation, research skills, and leadership experience weren't the only advantages she gained in college. "I wouldn't have gone to Saint Mary's without scholarships. As a scholarship recipient, I didn't realize that there was such an art and a science to fundraising, and that so many people did so much work to help me receive my education."
Jackson has learned a lot about philanthropy since then. She is proud of her role in launching VT's Opportunities Scholarship Program, for students who demonstrate leadership and service in the area of educational diversity. The brochure that Jackson created for the program included a poem by Nikki Giovanni, the distinguished English professor whose "We Will Prevail" speech galvanized many after the April 16 shooting tragedy on the VT campus.
Jackson says the events of April 16 were especially painful for her College, which lost two faculty members and many students. At the same time, she feels a renewed commitment to service. "When people learn and become educated, they can really transform a society. I see myself as a part of that," she says. "It's exciting and energizing to be in higher education and to be a part of that process."
Ultimately, Jackson's career goal is to be the president of a community foundation that generates educational opportunities for low-income and minority students. Until then, she is happy to be at VT on two counts. One is the chance to fundraise with donors who share her first-generation experience. Another is the "community and closeness … I really think that Virginia Tech has all the right elements in place to help us, in Nikki's words, prevail."