Giving Thanks and Serving Others
Giving Thanks and Serving Others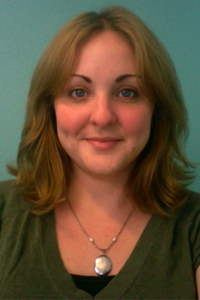 Six Saint Mary's students passed up turkey and all the trimmings with their families this past Thanksgiving when they opted to head to Indianapolis to serve others. Monica Aguirre '11, Anabel Castaneda '12, Catherine Cleary '12, Maeva Alexander '13, Mallory Price '10, and Carla Leal '13 joined alumna Kate Williams '07 at the Indianapolis Peace Institute. The students participated in a number of service projects in the community.
Williams is the special projects coordinator for the Indianapolis Peace Institute. "I develop and facilitate service-learning immersion programs for college students," says Williams who also manages the Institute's finances.
The Saint Mary's students volunteered at the Drumstick Dash, a 5K benefiting Wheeler Mission. They helped prepare meals for the Mozel Sanders Foundation, a group that serves over 40,000 meals each Thanksgiving. They also worked at a clean-up at the Olive Branch Christian Church, which also served a Thanksgiving meal in a neighborhood on the southeast side of Indianapolis. When all was said and done, the students shared a meal together at the Institute's student residence.
Williams will tell you that she came into her current position purely by accident. While applying for administrative positions, and considering a move to South Korea, she came across a job posting for the Indianapolis Peace Institute. As luck would have it, she interviewed with a Notre Dame graduate who was familiar with the caliber of students who graduate from Saint Mary's. Williams was hired in December 2007 and her position has transitioned from financial and administrative work to her doing more program development. "It has been an amazing opportunity to develop professionally," says Williams.
Williams transferred to Saint Mary's after two years at the University of Notre Dame. "I liked the idea of a more personalized education, and I was excited at the prospect of smaller classes and a more intimate learning environment," says the former humanistic studies (HUST) major.

L to R: Carla Leal, Mallory Price, Monica Aguirre,
Catherine Cleary, Anabel Castaneda,
and Maeva Alexander"Humanistic Studies was the perfect major for me—not only did I gain a newfound understanding and appreciation for Western history, the department's systematic approach to the study of culture gave me the chance to develop analytical skills that have served me well in the professional world," explains Williams. "In addition, I gained so much confidence from working in the collaborative learning environment that Saint Mary's fosters."
Williams cites HUST professor Gail Mandell as someone who has been supportive of her, even after graduation. At Saint Mary's, Williams participated in the week-long Radical Encounters, a program developed by Mandell. Williams traveled to a monastery in New York State, exploring different religions and communities.
Williams's interest in different communities continues today in her current position, and supports her plans for the future. "I love the opportunity to learn more about how various organizations work to encourage social justice and improve the lives of all members of our communities. This has inspired me to continue my education—I plan to begin law school in the fall of 2010."