Good Chemistry
Good Chemistry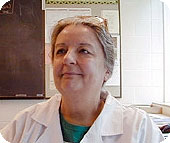 Step into chemistry professor Dorothy M. Feigl's office and you notice right away that this woman is … well, different.
The pocket of her white lab coat is stuffed with pens, spatulas, boiling sticks, and disposable droppers. It's also emblazoned with a picture of dimethylformamide (DMF), the chemical compound that shares her initials.
Near the card listing her real office hours, students have tacked up a sign that says, "Dr. Feigl's IDEAL office hours: 1 p.m. to 3 a.m."
And there is a big basket of Pez dispensers on her desk.
When Feigl was named the Denise DeBartolo York Endowed Chair in Science, she used discretionary funds to buy 100 iClickers so she could have the latest technology in her classroom. She got a tablet-style PC to write out chemical equations that are projected onto a big screen, and students can click to vote on answers to her questions.
"The answer they choose—if you rank your questions right—gives you real insight into how they're thinking about what's going on. It's a great tool," Feigl says.
Besides, she admits, "I am a geek. I really love this stuff."
Feigl began teaching at Saint Mary's in 1966, but obviously, she's keeping it fresh. Today she's working on the frontier where organic chemistry meets Who Wants to Be a Millionaire. Yet when she arrived more than 40 years ago with a Stanford Ph.D., she was one of few women at that level in her field.
She says her love of teaching has kept her at Saint Mary's. "Chemistry really explains things for me. You look at the world and you see things happening and they're sort of mysterious. Then you study the chemistry and you say, 'how elegant; how logical.' To be able to share that with someone and really see them understand it, to see the light go on—there is just no satisfaction like that."
Students appreciate Feigl's willingness to go the extra mile, whether in class or at evening "problem sessions" where she'll spend hours helping them work through equations. "I enjoy her teaching style," says senior Angela Comfort, "but another reason I really like her is she is always willing to help you out."
The only problem Feigl can't solve is when—or if—she should retire. "I like doing this. I really like doing this. And I haven't quite figured out what to do about that."