Granted Opportunity
Granted Opportunity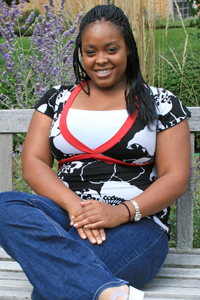 Working for a summer camp is a fairly common summer job for college students. Junior Lauren DeBruce's job at a camp for children with cancer was anything but common. DeBruce had an internship this past summer with Camp Whatcha-Wanna-Do, which operates out of Fort Wayne, Ind., and gives children with cancer a week to experience summer camp and a week out of the hospital.
While DeBruce worked more on the clerical side of camp, writing press releases, and planning fundraising events and memorial services, she also attended the camp itself. "A lot of the kids are pretty sick. It gives them a chance to be normal kids," DeBruce says. "Their brothers and sisters come with them too."
The internship was made possible to DeBruce through a grant she discovered through the Saint Mary's Career Crossings Office. The grant was for Saint Mary's students to work a non-paid internship in Indiana that would enhance their experience in a chosen career field. Students were then provided a stipend through the Cross Currents program, to allow for this internship that they may not have had if they had pursued a summer job not relevant to their career field. DeBruce applied and was one of the lucky ones chosen."Without Saint Mary's I wouldn't have been able to do it because I really needed to get a summer job," DeBruce says.
DeBruce is confident that her internship experience and her Saint Mary's education are preparing her for her future. "The internship really helped me learn what I want in a career. I learned a lot of professional skills," says the English writing and history double major.
While DeBruce continues to volunteer for Camp Whatcha-Wanna-Do, she is setting her sights on graduate school after Saint Mary's to study library sciences. "I'm glad that the skills I learned at my internship will carry over into my graduate studies," DeBruce says.
—Nikki Taylor '11