Great Things - London Lamar '13
Great Things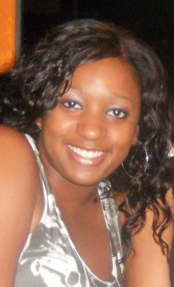 London Lamar '13 has been interested in politics and people since she was little. She avidly followed her local government elections and in high school she ran for and achieved school government positions. In the twelfth grade she decided on law and politics as a future career. Now, as a political science major and sociology minor at Saint Mary's, London feels right at home. 
In addition to her busy coursework, London is president of the Sisters of Nefertiti, a campus club that works to bring awareness to African American history and contemporary issues. The leadership position is one way London says Saint Mary's is preparing her for a future working with people. "The opportunities that Saint Mary's provides allows me to meet new people, have leadership roles, and interact with people not like myself," she says. 
London has many such opportunities through her extracurricular involvement, which also includes a position on the Student Diversity Board (SDB), helping to coordinate the College's annual Diverse Student Leadership Conference, and participating in admissions recruiting events.
With law school in her future, London is working hard to prepare. "Saint Mary's foundation allows me to have a liberal arts education in which I have the opportunity to take a wide range of classes," London says, citing the small class sizes and passionate professors who have helped her define her career path.
In the spring of 2012 London will participate in the Washington Semester Program with the political science department. She will study at American University for a semester while holding an internship in Washington, D.C. 
London plans to work as a political lawyer or in public policy after law school. Eventually, she wants to run for public office. And with a passion like hers, there is no doubt London will achieve her dream to be a political leader. "Moreover," she says,  "the education that I have obtained gives me confidence that I am more prepared to go out into the world and do great things!"