Green and Glam
Green and Glam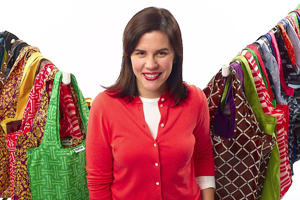 RuMe Bags are available in the Shaheen Bookstore
on Saint Mary's Campus
If you build it they will come. Alumna Katy Massey Lee has proven exactly that, in less than a year, with the introduction of her fashion-forward, enviro-friendly reusable bags. Lee is the co-founder and creative director for RuMe (short for ReUseMe) Bags, which are made to be stronger, lighter, and more convenient than the traditional reusable bags currently on the market. Launched in April of 2008, the bags have been featured on the Today Show, and in magazines such as Marie Claire, Star, and Vogue Japan. A-list Hollywood heavies like Jessica Alba, Jennie Garth, Nicole Richie, and Joel Madden have been spotted with the trendy carry-alls. Made in a government certified fair trade factory in South Korea, the idea for the bags grew out of an interest Lee and her co-founder/husband had in the green movement in Denver, Colo., where the business is based.
"One of the easiest steps to help the environment is using reusable bags. Unfortunately, I didn't have the best experience with the current reusable bags in the market," relates Lee. "Either they were so bulky and I forgot them in the car, or the quality of the bag was poor and quite frankly they were not fashionable. My husband and I decided that we could use his experience in manufacturing and trade and my experience as an art director to build a better bag. On November 2007 the idea of RuMe was born and we haven't looked back."
The 2000 graduate and former fine arts major says she chose Saint Mary's after visiting the campus. "I felt comfortable and I knew that I would be able to grow into a strong woman," says Lee. That strength is apparent in her business acumen. "My professors taught me, if you work hard, the rest will come."
Lee credits the entire art department with helping her to develop her artistic background but says, "it was Professor [Doug] Tyler who first introduced me to designing on the computer and taught me to take all of the information from my other art classes and apply the knowledge to the computer and design programs."
That design experience is reflected in the haute couture handbags that are sold in 47 states and 15 countries. "Within the next year we hope to be in all 50 states, and triple our foreign presence," says Lee.
While her bags say fashion and her celebrity following says hot, Lee remains focused on the goal of producing a better bag in a better way. "Most importantly, the feedback from our consumers has been wonderful. To make a product that people love to use is all that matters."