Home for the Holidays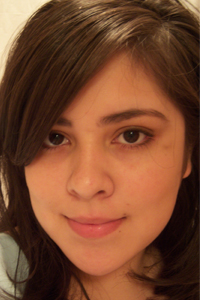 For many students the holidays are all about going home. For Cristina Posadas Moreno '11, it's no different. The sophomore from Chicago, Ill., will be returning to her birthplace in San Luis Potosi, Mexico for the first time in three years. "We celebrate Las Posada with friends, relatives, and people from the community. Las Posadas is a Mexican tradition which represents the struggles Mary and Joseph had traveling to Bethlehem," explains Moreno. "Two people represent Mary and Joseph, and they lead a group of people in singing when they reach designated locations, where we then partake of food, break a piñata, and pray."
Moreno will be spending Christmas and New Year's at her aunt's house with family members from several parts of Mexico and the United States. "We have traditional food, such as tamales, pozole, romeritos, and atole. We build a fire, set off firecrackers, sing, and play the guitar," says Moreno.
With a major in justice education and a minor in intercultural studies, Moreno is also involved in the student club La Fuerza as the vice-president, the mentorship program as a mentor, the Student Diversity Board as a student representative, and as a participant in the Center for Women's Intercultural Leadership certificate program.
Moreno chose to attend Saint Mary's with encouragement from her high school vice-principal and college counselor. "I like the small school environment, and that professors really are interested in helping you." With plans for graduate school in cultural anthropology, Moreno also enrolls in a number of classes with some cultural component such as intercultural studies and sociology. "There are several professors that have made an impression on me and have helped me understand better my future career plans," says Moreno.