Home Is Where The Heart Is
Home Is Where The Heart Is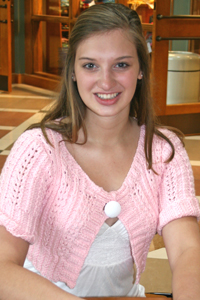 If Saint Mary's offered a course called "College Living 101", Kat Nelson '12, of Rock Island, Ill., would ace it. During her first year at Saint Mary's, the communication studies major, who is also pursuing minors in art, anthropology, and film studies, gained responsibility most students wouldn't experience until their later years of college. As a first-year student, Kat acted as president of Holy Cross Hall. Along with the position of residence hall president, Kat automatically became part of the Residence Hall Association (RHA) at Saint Mary's College. RHA serves as a programming organization, planning and executing social and educational events such as dessert with the College president, t-shirt tie-dyeing, and Little Sibs weekend—essentially events to help enhance residence life at Saint Mary's.
During the 2009-2010 school year, Kat will continue her involvement with RHA, acting as the National Communication Coordinator and State "Hoosiers" Communication Coordinator. Says Kat of her new responsibilities, "I attend several business meetings a year to make sure that residence halls are being run according to regulation. I also am in charge of putting together a delegation for several conferences where we share and learn about different programming ideas along with discussing how to run an effective budget."
Although Kat assimilated well to life at Saint Mary's during her first year, her adjustment to residence hall living was not without some assistance from a newfound mentor, Saint Mary's Director of Health & Wellness, Cathe DeCleene. "Cathe was extremely helpful when I was settling in on campus. She invited me to Knit Night, which I have tried to make it to every night since. She also gave me my first taste of family on campus," Kat says.
This sense of "family" within residence life at Saint Mary's has continued to grow for Kat, who chose to continue living in Holy Cross Hall during her sophomore year. "I love living in the residence halls here at Saint Mary's College," she says. "You become very close to the girls you live with." Kat has also learned that Saint Mary's residence life fosters an extremely caring community. "There have been times when I haven't felt great and someone would bring over a cookie, or when you are down in the kitchen and short an egg, there is always somebody willing to give you an extra," she says.
—Mary Elizabeth Ulliman '10