Hoopin' It Up
Hoopin' It Up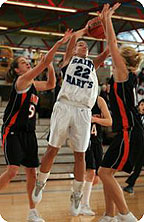 For a few elite college basketball players, the season peaks with March Madness. For Saint Mary's junior Alison Kessler, it ended in a February Frenzy.
Kessler led the Belles basketball team to its best finish ever, breaking records along the way. A guard, she averaged nearly 20 points per game and set Saint Mary's all-time season scoring record with 497 points. She passed the 1,000-point mark for her career, led the conference in steals, and became the first player in school history to garner first-team honors in the Michigan Intercollegiate Athletic Association (MIAA) for two years running.
The Belles finished third in the MIAA, just behind Calvin College and Hope College, Division III powerhouses who advanced to the NCAA tournament.
In her three years at Saint Mary's, Kessler has also piled up academic honors. Her robust GPA has put her on the Dean's List every semester. She's pursuing a business major with concentrations in finance and marketing, and planning her second business internship this summer.
"She is very intelligent in the classroom and by far one of the smartest basketball players I have had the chance to coach," said Belles coach Jennifer Henley.
Intense on the court but low-key in person, Kessler prefers to focus on team, not individual, accomplishments. "I still have one year left to help get the program to another stage," she says, "It would be great to get into the MIAA finals for the first time. I think it's a real possibility next season."
Kessler had clear reasons for choosing Saint Mary's, a Division III college. "I knew I wanted to play basketball at a small school with strong academics," she says. "I didn't want to see basketball as a job. I wanted to still have fun with it."
Growing up in nearby LaPorte, Ind., Kessler also wanted to be close enough to allow her family to cheer her on at games. They've only missed one so far.
But the best thing about being a student-athlete at Saint Mary's, she says, is her teammates. "Playing a sport, you really get to know each other. And you can talk to each other about all the struggles, stresses, and rewards of playing basketball and having a tough academic load. You really make good friendships," she says. "We're a close team."