Inherited Past
Inherited Past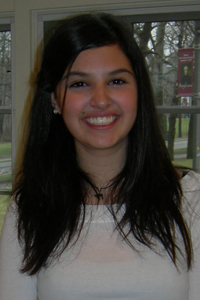 Junior Jackie Rothschild is a Catholic girl with a Jewish last name. The Fort Worth, Tex., native hadn't given much thought to it until taking religious studies classes at Saint Mary's College, like one on Hebrew Bible prophets with Assistant Professor Stacy Davis. "She's such an amazing professor. She's why I chose to become a religious studies major ." Rothschild's interest in religious studies eventually led her to the University of Notre Dame, where she is pursuing a second major in peace studies through the co-exchange program between the College and the University. "People ask me what I'm going to do when I get out of college with peace studies and religious studies majors, and I tell them I'm going to save the world and go to heaven!"
Rothschild's grandfather, Julius Rothschild, fled Nazi Germany during World War II. At age 40, he started his life over, fleeing with other Jews to Cuba and then settling in Mexico, even though he didn't speak Spanish. Julius married a Mexican Catholic and they raised their children Catholic. Rothschild never met her grandfather; he died before she was born.
Over spring break Rothschild had the opportunity to try to make a connection with her family's past. She traveled with her Holocaust class from Notre Dame, led by Father Kevin Spicer, to World War II concentration camp sites in Poland and the Czech Republic, and other historically significant Nazi sites in Germany. Rothschild says the trip was "incredible." She even found evidence at a Holocaust museum that two of her grandfather's brothers were killed at Auschwitz.
But the trip was also frustrating. Rothschild explained that while in her mind she made the connection between what she learned in class to the locations she was visiting, she felt no emotional tie. She did, however, find herself breaking down while visiting a synagogue on the trip, realizing she was on the outside looking in at the faith she was not a part of. "I'm not Jewish, so I felt out of place. I felt like an outsider, not knowing whether or not my grandfather is enough to make me feel like an insider."
Rothschild will continue her quest to learn more about her grandfather and his family this summer, and well into the future. To read news accounts about Jackie Rothschild, click here (pdf) .