Intrinsic Motivation - Katrina Mesina '11
Intrinsic Motivation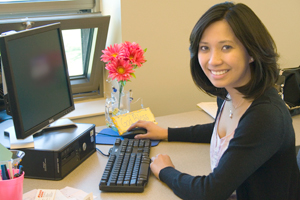 Katrina in the Student Government Association (SGA) office
Katrina Mesina '11 is a motivator. She relishes helping others achieve their goals. She believes in educating people on how to advocate for themselves and has witnessed the power of this process through her work at the South Bend Center for the Homeless.

Last school year, Katrina paired up with fellow communication studies major Claire Yancy '11 to create the Women's Program, a women's studies initiative to be installed at the Center for the Homeless this school year. The program is based on work the two conducted through Professor Terri Russ's public communication class. Students in the class taught Homeless Center clients about communication skills necessary to be successful in life with regard to family, school, work, and day-to-day affairs.

Katrina is also passionate about working with people with special needs. A Darien, Ill., native, she has participated in a fundraising walk for the Chicago chapter of the Autism Speaks organization for the past five years. She and her dorm mates in Holy Cross Hall also volunteer at Hannah and Friends founded by former Notre Dame football coach Charlie Weiss and his family. Katrina wants to continue her work by bringing a chapter of Autism Speaks to Saint Mary's.

Her experiences, both volunteer and academic, have guided Katrina to her ultimate calling: to work in service of others as a student and after graduation as a professional. For now, her involvement in Saint Mary's student government organization gives her opportunities to coach other students to excel. "My goal is to create an environment where students feel comfortable with their own voices," she says. And that's what Katrina is all about—motivating others to recognize, develop, and pursue their own passions.