Culture Quest: Jean Osberger '13 Seeks Deep Understanding of Western Civlization and Beyond
Jean Osberger '13 wants to see things from all sides, wants the richness of varied experiences, wants to know many types of people. And Saint Mary's is just one step in this quest for understanding she knows will last her entire life.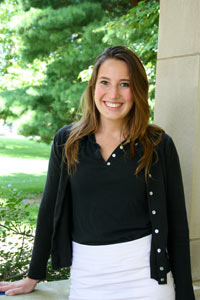 "My classes at Saint Mary's motivate me to truly learn the material and inquire further than the syllabus necessitates," she says. "Focusing on the grade does not motivate me. Learning is not a means to an end, but a process that should never end."
This mindset made Jean a perfect fit for Saint Mary's unique and rigorous humanistic studies program. Weaving together history, literature, theology, philosophy, and art, it focuses on understanding western culture. What separates it from traditional humanities programs is the emphasis on women and Christianity's role in forming western civilization. Students are expected to take an active part in discussion and write frequently, as well.
Jean, a resident of South Bend, Indiana, decided on her major after taking an introductory class. "I really wanted a major that focused on a subject through several different points of view because I believe that is the closest way to come to an unbiased understanding," she explains. "If there's one thing I've learned at Saint Mary's it's to be skeptical of everything, because our history tends to be written by those in power and doesn't tell all sides of the story."
Naturally, the College activities Jean has enjoyed most are those that have opened her mind and exposed her to new experiences and ideas. "My most meaningful experience has been my semester abroad in Seville, Spain," she says. "I loved the cultural immersion of living with a Spanish family and speaking Spanish every day. I have never been more out of my comfort zone nor experienced anything so unique and exciting."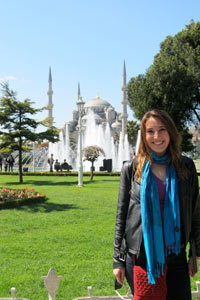 Jean Osberger '13 visited the Blue
Mosque in Istanbul, Turkey, during her
study abroad in Seville, Spain.
Jean also is a perfect fit for the Student Diversity Board. Last year, she helped organize events that promoted female leadership and feminism such as Women's Appreciation Week. "I believe if we promote diversity, the student body will embrace it more fully, paving the way for a more diverse campus in the future," she says. "Diversity is important because it helps people become more aware the 'whole picture,' and therefore base their perception on a fairer scale. Diversity helps ground us in reality and shapes our educational experience in a way that forces us to be open-minded."
Her openness to new experiences led to her choice of minors in Spanish and dance. "Spanish integrates perfectly into my humanistic studies major because what better way to study a culture than through the native language?" she says.
"I love to look at culture through its dance and think it expresses things that are impossible to verbalize," she says. "In Spain, I took flamenco and it was a fantastic experience! It's nice to express yourself in a way that is emotionally raw instead of being bogged down by words."
Jean is considering law school after graduation. She plans on entering the workforce immediately after college, and hopes to use Spanish in any career she chooses.
Whatever she plans to do, she knows Saint Mary's has prepared her. "The professors really care about the students, and the women who attend Saint Mary's are confident, independent intellectuals," she says. "I have grown into an independent person and made lifelong friendships in my time at Saint Mary's."