Cheer and Volunteer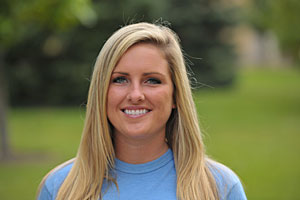 To senior Katelyn Dapper, or Katie as she is better known, Saint Mary's is synonymous with family. Her mother and two aunts are alumnae and her sister, Sarah, is a first-year student at the college. But for Katie, Saint Mary's means family in more ways than one.
"I enjoy a smile or hello from all students as I walk around the campus," she says. "I could not have anticipated the difference it makes to know that I am a part of a family here at Saint Mary's. My second family is a support system for every aspect of life on-campus."
Katie, a business administration and communication studies double major from Indianapolis, recognizes the community's support as a major factor in her growth over the past three years.
"I have gained a great deal of independence and confidence through many experiences and challenges at Saint Mary's. I have learned to take on any task and overcome difficulties that come my way," she explains.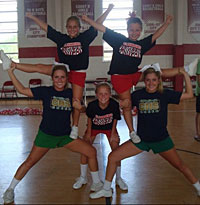 Katie, bottom left, and her sister, Sarah,
bottom right, help younger students
with cheerleading.
There is no doubt that Katie has taken on her fair share of tasks while at Saint Mary's. Katie serves as the secretary and sergeant at arms of the campus Toastmasters Club, a national organization that develops skill in verbal and written communication. She is also the director of student involvement for the Saint Mary's Make-A-Wish Foundation, coordinating events and fundraisers.
But Katie cites her volunteer work at South Bend's Center for the Homeless as her most meaningful campus involvement. She, along with a fellow classmate, created and taught a class for the children at the Center during the spring 2010 semester.
"We had originally planned to volunteer at previously organized events but the head coordinator could no longer attend," Katie explains. "We took over the role as leaders so that the kids would still have something fun to look forward to on Wednesday nights. I brought supplies and created an activity for each meeting throughout the semester."
Outside of Saint Mary's campus, Katie continues her involvement in the community. She is a cheerleading coach at a grade school in Indianapolis and runs a camp in the summers to help the girls prepare for the upcoming season.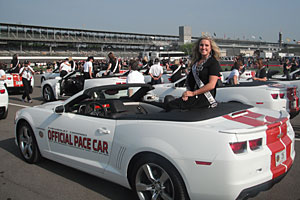 This year, Katie was chosen as one of 33 princesses for the
Indianapolis 500 race.
This year, Katie was chosen as an Indianapolis 500 Festival Princess, one of only 33 selected from an applicant pool of nearly 300 young women. The selection was based on communication skills, poise, academic performance, and community and volunteer engagement. As a princess, Katie was highly involved in the 500-mile race, festival events, and statewide outreach programs.
Katie even finds time to further her career aspirations. This summer, she worked as the marketing intern for USA Gymnastics in Indianapolis.
"I assisted the marketing department in planning events, ticket sales, relationships with member clubs, sponsors, and partners, publications, and worked on-site at competitions," Katie says. She even had the opportunity to travel to the Cover Girl Classic in Chicago and to the Visa Championships in St. Paul, Minnesota.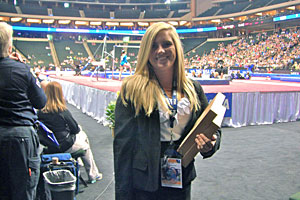 Katie visited the Visa (gymnastics) Championships in
Minnesota this summer as part of an internship.
After graduating from Saint Mary's, Katie knows where she will go next. "I plan to work in the marketing department of a successful corporation," she says. "I hope to travel the world and continue to learn every day!"
Though success will surely come to Katie as she moves into the future, she will always recognize the support system of her Saint Mary's family. "I love my amazing friends and the support from the entire community. My success means something to each of these people and their compassion exceeds my expectations."
—Alexandra Davin '12