Keeping Busy
Keeping Busy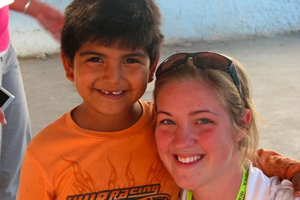 Junior Megan Ryan is the president of Saint Mary's Right to Life. She is the president of Gallery 232, Saint Mary's photography club. She's in Bellacappella, and the Saint Mary's women's choir. She works at the regional Autism Center at Logan. She's a Saint Mary's student, carrying 19 credit hours. And that's not everything.
Megan Ryan is busy.
This Fort Wayne native has a passion for life. Her interests run in a number of directions, but if pinned down she'll say, "I think service is my passion, but I think that it's my spiritual life that guides me." This past fall Ryan spent a week in Guadalupe, Mexico, with the Sisters of the Holy Cross. There, she experienced hospitality from the residents, who live under the most deplorable conditions.
"They had so little, and yet when we would stop to meet them and introduce ourselves they gave us so much. They would invite us inside and feed us with food they had no business giving us. They probably didn't eat for two days because they fed us the food that they probably should have been eating themselves, but they wouldn't have it any other way."
Ryan is an elementary education major who hopes to someday teach in a Catholic school. Ryan points to Karen Van Meter, director of student teaching and field study, as someone who has opened doors for her. "She's so resourceful, I swear she knows everything. I go in to her, ask her a question, she tells me what I need to do."
Ryan's interest in service was deepened in her Faith in Action class with Professor Kurt Buhring. "His class fed my desire for service. It made me realize that it's possible to get involved other than just on campus; I can be in the community."
Ryan continues to work in the community through her Right to Life Group, in their Mother's Day Drive. "We just want to fill a van full of items to take to the Women's Care Center to help all the babies and pregnant women who choose life for their unborn children."
This summer she plans to work with Carrie Call, director of the Office for Civic and Social Engagement , to plan a post graduate service year to Ghana where she will live with the Sisters of the Holy Cross at their mission site, while working in their new school.
So what does this busy Belle like to do in her free time? "I go home when I can," says Ryan. "I'm very family centered."