La Dolce Vita - Rachael Chesley '11
La Dolce Vita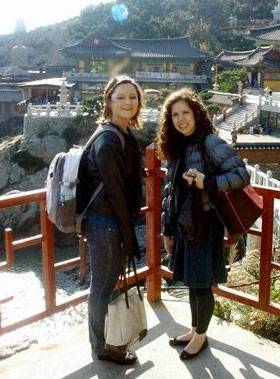 Rachael (left) with a friend, Lauren, on
a backpacking trip.

One of senior Rachael Chesley's favorite quotes is by Eleanor Roosevelt who once said, "The future belongs to those who believe in the beauty of their dreams." Rachael is busy making her own dreams come true at Saint Mary's.

She is majoring in business administration with concentrations in management and international business. Upon graduation Rachael says, "I know I want to do something that involves traveling and learning about various cultures and people." She's pursuing positions with international companies, hoping to land her first job abroad.

One of her mentors here at the College, Ujvala Rajadhyaksha, has served as both an inspiration and guiding force in Rachael's life. "As a young woman aspiring to be a global leader, my advisor has demonstrated what it means to be a confident and assertive yet feminine leader with intercultural competence," she says.

No lack of competence here. Rachael is familiar with the hard work that goes into leadership. That's why she was elected this year's Student Body President, a title that comes with a lot of responsibility.

She and her vice president, Laura Smith '11, have set three major goals for themselves. The first is to create a stronger network of communication and integration among the various clubs and organizations on campus. Rachael says that each student-led organization adds to the campus experience and she wants to ensure each is fully incorporated into student life.
Secondly, Rachael and Laura want to increase alumnae outreach and networking. "Saint Mary's was founded on the basis of tradition and I know that one of the things that attracted me to Saint Mary's was the alumnae connections. We want to reach out to alumnae and involve them in more aspects of student life," Rachael says.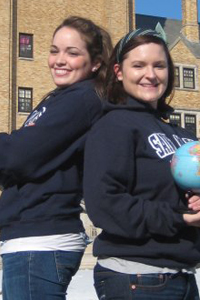 Rachael (right) and
Laura Smith '11

Thirdly, she wants to bring more "global awareness" to campus. She and Laura have added a new International Commissioner position to the Student Government Association, to be filled by an international student.

Rachael herself is well qualified to bring a global perspective to her new leadership position. She has studied abroad in Saint Mary's Seoul, South Korea, program and through the College's Rome program. "Studying abroad and having an intercultural education is crucial because the world is becoming more diverse and the future depends not only on leaders, but on global leaders that embrace diversity and intercultural settings," says Rachael.

With her international learning experience and a resume of campus leadership positions a mile long, Rachael is on her way to becoming such a leader. But along with Eleanor Roosevelt's advice, she takes to heart something Italian professor Peter Checca told her. "He has always reminded me that working hard is necessary, but taking time to do the things you love such as eating a 'canola' or taking 'una passegiata' (a walk) is important when trying to live a full, happy, and 'dolce' life."

—Lauren DeBruce '11