A Lasting Bond - Christina Losasso '11
A Lasting Bond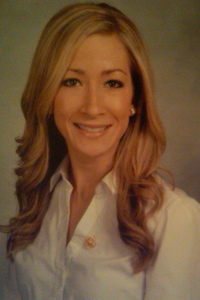 When Christina Losasso '11 first stepped foot on the Saint Mary's campus as a visiting high school senior, she couldn't help but notice the school's rich history and resonant heritage. 
"I fell in love with the campus, the tradition, and basically everything about this place!" She said.
The Minnesota native took full advantage of Saint Mary's array of clubs and programs that would enable her to engage in the rich culture and tradition the campus has to offer.
Four years later, the nursing major has assumed a role that allows her to both enjoy and promote the school's unique history. As Co-President of the Friends with Sisters Program, Losasso pairs Saint Mary's students with Sisters from Holy Cross Convent.
With over 100 members, Friends with Sisters is a largest club on Saint Mary's campus. The program was created to connect the Sisters of the Holy Cross Convent with the students of Saint Mary's.
"The pairing is made after we have reviewed the student's interests from her application and matched them to those that are similar of a Holy Cross Sister. It is very interactive," she explained. "A huge part of this program is making the connection with your Sister and then building upon that relationship." 
Losasso said she was drawn to participate in the club because of the generational connection that is offers.
"There is something very unique about this intergenerational program where the focus is to bring together two communities that are so close yet so far away," she said.
As Co-President, Losasso is also responsible for organizing the club's events throughout the school year. The students are also encouraged to make personal visits to the convent to spend time with their Sister.
Losasso said she takes away a deep understanding and appreciation from her time spent at the convent with the Sisters.
"They have lived long lives and because of that they have many experiences to share with their student," she said. "They have traveled to many places, have worked in many fields, and have so many stories to share."
As her final semester at Saint Mary's come to a close, Losasso's position as president will soon be turned over to another student. Though her time at Saint Mary's is coming to an end, Losasso knows the friendships she has built through the Friends with Sisters program is far from over.
"One of the wonderful things about this program is that you never have to leave it behind," she said. "This program is all about the friendships made between the students and the Sisters. Fortunately, friendships do not have to end when college ends, they can last you the rest of your life."