Leading and Learning
Leading and Learning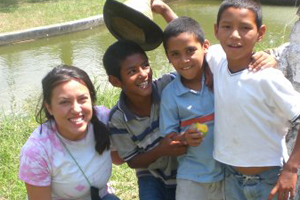 Carissa Salvador '10 in Honduras
Senior Carissa Salvador was considering attending another college until she received a phone call from a Saint Mary's student asking her to apply to the College. She applied, and after receiving her acceptance letter she came to visit the campus. "Once I stepped on campus I fell in love with the green grass and the beautiful buildings. The people on campus all seemed so friendly. By the end of my overnight stay I decided that Saint Mary's was the place for me." The native of Las Cruces, N.Mex., is majoring in psychology with minors in intercultural studies and sociology.
Carissa has been involved with the Student Diversity Board (SDB) since her first year and she is the president of the club this year. She is also in the process of completing the Center for Women and Intercultural Leadership (CWIL) Intercultural Leadership certificate program. Her favorite class was Introduction to Intercultural studies, taught by Mana Derakhshani. Carissa found the class work challenging, but says she learned so much about herself and others. "The discussions in that class were often on touchy subjects, but we all opened up and were respectful of one another.
Even though she is busy on campus, Carissa still has time to give to others, volunteering at Catholic Charities where she helps teach the Immigration/Naturalization class. "This class prepares immigrants that are interested in becoming U.S. citizens, with an understanding of U.S. history and our government," explains Carissa.
Carissa has also participated in the Rome Study Abroad program and in a service trip to Honduras. The two trips, just a few weeks apart were very different experiences. "In Rome we were spoiled living in a luxurious hotel and having great, big meals every day. But in Honduras we slept on bunk beds and once in hammocks in a village. The food that we were fed, we were so grateful for, because we knew that many Hondurans would not be eating that day or meal." While Carissa enjoyed the cultural learning during her time in Rome, she also found her experience in Honduras rewarding. "Being in Honduras allowed me to become very interested in working with children, especially in Latin American countries."
Initially looking to teach, Carissa is applying to teaching programs such as Teach for America and City Year. After that she is considering working with children in developmental psychology, or maybe working in law enforcement on a federal level. Regardless of where her path leads, she'll be ready.
"Saint Mary's has provided me with a great education and has allowed me to discover what it is I stand for and has encouraged and allowed me to speak up for what I think is right or wrong," says Carissa. A recipient of scholarships through the College, Carissa hopes to return the favor someday. "I hope that in my future I will be able to give back to Saint Mary's so that I too can help a student who needs the assistance to not only get through college, but also get a great education."