Leading by Example
Leading by Example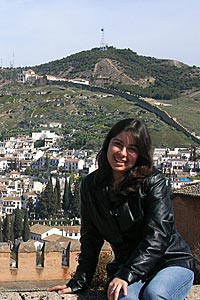 Adriana Lopez knows what it means to be an intercultural leader, and soon she'll have the document to prove it. Lopez graduates this year with a major in Social Work , and a Certificate in Intercultural Leadership. The e-portfolio program through the Center for Women's Intercultural Leadership (CWIL) will be the culmination of classes, work and personal experience. Lopez cites the certificate as giving her "the ability to be sensitive, the ability to work with different people [other] than your own and to acknowledge that there are differences, but those differences are what give you a commonality because we're all different. It's finding a way to work together."
Lopez, who was born in the U.S., has also lived in Mexico. She returned to the U.S. seven years ago, during a time where she experienced " a whole culture shock," learning the language and assimilating into the culture "without losing my identity," says Lopez.
CWIL helped Lopez with this process through their summer program, Encuentro: Encounter Yourself. The program, which Lopez attended her sophomore year of high school, works with prospective first generation college students. "I came to CWIL and that's sort of how I became interested in Saint Mary's. After that I became a counselor for the camp and last year I was on the planning committee for it."
Lopez's leadership experience includes acting as the chair of the upcoming Diverse Students' Leadership Conference as well as attending national women's conferences, where mentor Bonnie Bazata, Associated Director of CWIL, treated them as partners. "Every time Bonnie would introduce herself she would say I'm going to let my colleagues introduce themselves as well. And the women there [were] also taking our perspectives into consideration and not just saying, 'You are still missing a couple years of work experience.' It was like they really appreciated our contributions. That to a young a woman and to a young woman of color - I think that's very empowering and it motivates you and inspires you to keep going on."
Lopez's future includes interests in immigration, economic development, and public policy. She is currently pursuing positions at both the U.S. Congressional Hispanic Caucus, and at the National Council of La Raza. Either experience might affect her decision to eventually pursue a master's degree in public policy, or go to law school.
Given all that she does, Lopez still makes time for others, including many women she has encouraged to attend Saint Mary's. "I'm really busy but I make the time to spend time with my friends and to also be a mentor and to be a role model to the younger women who are coming into Saint Mary's."