Leading Lady
Leading Lady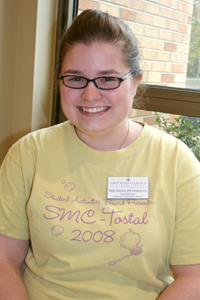 Combining interests in both marketing and theatre, Michele Peterson '10 is majoring in business administration with a minor in theatre performance. "I hope to go into advertising for entertainment, but I would enjoy anything in marketing," says the native of Bellbrook, Ohio about her future. In the meantime she is preparing herself by getting involved in theatre and leadership opportunities.
Choosing to come to Saint Mary's was an easy decision for Michele. After visiting her sister Samantha ('08) a number of times, Michele says, "I ended up falling in love with the campus." She also says she loves all of the opportunities she's had. Michele has been involved with the Student Activities Board (SAB) for the last three years, as the president last year and this year as well; and she is a member of Thespians Unplugged, the theatre club. "I don't think I would have been so involved with student government or theatre if I had gone to another school," says Michele.
One of Michele's favorite classes was World Civilization I with Dr. Dave Stefancic. "I have never loved history, but this class completely changed my view." She also enjoyed classes taught by one of her favorite professors, Joyce Hicks, in the business department. "I always left her classes with a great understanding of marketing," says Michele.
Michele has taken advantage of not just the opportunities on campus, but the relationships with staff members as well. "Two staff members that have helped me are Patrick Daniel and Tena Johnson, both with Student Involvement. They have both mentored me in regards to campus programming and SAB," says Michele. "I would not have been able to do it without either of them."