Life Lessons
Life Lessons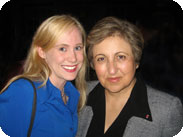 When Ashley Ingram was just a year old, the first two phrases she learned to say revealed a lot about her personality. One was "go bye-bye" and the other was "do by self." The 2007 Saint Mary's graduate hasn't changed much since then.
Ingram was serious about the "go bye-bye" part. Raised in Oklahoma City, she studied abroad twice in high school and twice in college, attending Saint Mary's programs in Rome and Greece . As for "do by self," Ingram created her own interdisciplinary major, combining women's studies and religious studies with a minor in political science. "Doing a student-designed major was great because it allowed me to be my own scholar," says Ingram. "I was able to look at issues and tailor my education in a way that really fit me and my interests."
Drawn to academics and activism, Ingram served as president of the student group Feminists United. She originally chose Saint Mary's because she knew that women's colleges nurture leadership, and was impressed by the fact that three Saint Mary's alumnae are members of the U.S. Congress. As she contemplated a major, she says, "I liked political science classes, but I wanted something that focused more on issues related to women—how women are in the world and what they are doing to make a difference."
A class called "Feminist Memoirs" opened Ingram's mind to new possibilities. Mentored by professors Astrid Henry and Phyllis Kaminski (scholars in women's studies and religious studies) she drafted a plan "to study politics and religion through a feminist lens." Ingram's senior comprehensive project analyzed the memoirs of four feminist writers: reformer Elizabeth Cady Stanton, Catholic activist Dorothy Day, actress Jane Fonda, and Nobel Peace Prize laureate Shirin Ebadi. The project came alive during Ingram's senior year, when she got to meet Ebadi at a Saint Mary's conference on women's leadership, and Fonda, who visited Notre Dame last fall.
At graduation, Ingram earned the annual prizes awarded by the women's studies and religious studies departments. Although she eventually hopes to pursue a PhD, she'll first head to New York City to work in publishing or politics. The experience should provide valuable lessons for her own life story, says Ingram: "Education is so much more than being in school. It's being in places, too."
Photo: Ashley Ingram '07 with Nobel Prize laureate Shirin Ebadi.