Lighting Up the Classroom
Lighting Up the Classroom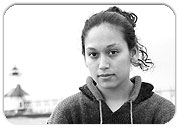 In some ways, Jeanne Choquehuanca is not your typical Saint Mary's student. Now a junior, she transferred to Saint Mary's from a community college in Houston and began her education at the U.S. Coast Guard Academy.
She grew up in Texas, but her mother is Ukrainian American and her father is a first-generation Peruvian immigrant. Curious to explore her roots, Jeanne spent more than a year of high school with extended family in Peru. She also traveled to Bolivia, getting to know the Quechua and Aymara cultures of the Lake Titicaca region.
"It was a life-changing experience," she says. "Peru is a very indigenous country, so it really got me interested in learning more about indigenous people of all countries.

Continuing her journey at Saint Mary's, Jeanne chose political science as a major. In comparative and Third World politics classes with Professor Marc Belanger, she delved into questions that had long intrigued her. Why are Latin American societies so divided along ethnic lines? What do different indigenous cultures have in common? Where indigenous people are the majority, why aren't their political movements stronger?
A curious student can light up a classroom, and Belanger saw illumination in Jeanne. He recommended she do some summer reading on ethnic politics, but never imagined how deeply she'd probe.
"The first thing I did was go through an encyclopedia of indigenous people, and I read a lot of anthropology books, too," says Jeanne. She next turned to the topic of black politics in Latin America. If material wasn't available in English, she tracked it down in Spanish.
On campus Jeanne has explored a lot, too. She is co-president of La Fuerza and has worked with the Student Diversity Board, Feminists United, Sisters of Nefertiti, Notre Dame for Animals, and other student groups. "I really like getting a feel for everything. I've probably been to at least one meeting for every club," she laughs.
Next year Jeanne hopes to go global with her interests. She's applying to Saint Mary's Semester Around the World program, which is based in India, to explore the cultures of South Asia through travel and coursework. Eventually, she plans to attend graduate school and work with a nonprofit focusing on environmental or indigenous rights.
She's inquisitive, open, growing, and making connections. And in those ways, she is a typical Saint Mary's student.