Like A Fish
Like A Fish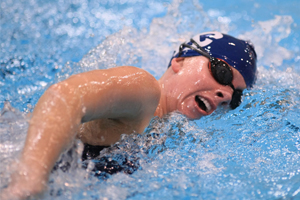 Sometimes you just have to go with the flow. Easy enough for junior Lindsey Nelis, a member of Saint Mary's swimming and diving team . Nelis's father was a swimmer at Kalamazoo College, her mother swam for Western University, and an older sister swam for Saint Mary's from 2002-2006. Another sister swims at Albion College and she has two cousins who swim for Hope College. Nelis has no problem competing against family. "It is fun going to a swim meet with family on the opposing team," says Nelis. "It makes the meet less stressful and the pressure to win is replaced with a fun atmosphere."
For her swimming endeavors Nelis has garnered a rookie of the year distinction in 2006, athlete of the week in January 2008, and she has received a varsity letter every year. Last season Nelis set the fifth fastest time in school history in the 1000-yard freestyle at 11:15.30. In addition to swimming, the accounting major volunteers in the Tax Assistance Program preparing tax returns for low-income individuals. Yet her classes don't take a back seat to these activities, as pointed out by her mentor and swim coach, Ryan Dombkowski. "He has been supportive and showed me that school comes first, despite having a major time commitment like swimming," says Nelis.
The Holland, Mich., native says she chose Saint Mary's because she wanted a school close to home with small classes and a "lot of one-on-one interaction with professors." She's been able to take part in other Saint Mary's offerings, including studying abroad in 2008 in London, Paris, Edinburgh, and Dublin. "The experience was amazing," says Nelis. "It was so much fun and it taught me a lot about other cultures and ways people live."
Not leaving her competitive nature behind at the pool, Nelis also participates in events in her field of study. "In the fall I was a member of a team of four that competed in the Indiana CPA society case competition, receiving honorable mention." Her future plans include either a 5th year MBA or MSA program, and a career in public accounting.