Like Mother, Like Daughter
Like Mother, Like Daughter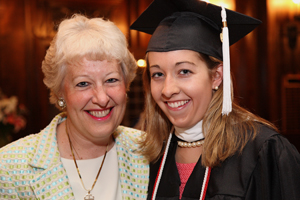 Catherine Kleinschmidt '78 and Laura Kleinschmidt '09Before coming to Saint Mary's, graduate Laura Kleinschmidt '09 already knew how wonderful the College was—her mother Catherine Gunn Kleinschmidt was a 1978 graduate. "I've heard stories of how special it was to her and once I visited as s prospective student, it was everything I could hope for. I love that it is big enough where I could meet new people constantly, but small enough that I knew the majority of my class," says Laura.
Laura majored in communication studies and minored in English writing and public relations. She says her favorite class was Women's Health. "Professor Ella Harmeyer is a wonderful professor, and she answered tough questions to prepare us for the working world."
Laura credits Dr. Colleen Fitzpatrick in the communication studies department for being so helpful during her four years, writing letters of recommendation and answering career and class-related questions. "She encouraged me to submit my senior comprehensive to a regional communication studies conference where I presented it in front of professors, students, and visitors. It was a wonderful experience," says Laura. "I could not imagine my career at Saint Mary's without her help and guidance."
Laura was a writer for Bellezine since her first year, and she was the co-editor of the campus magazine, during her senior year. She was also a Student Ambassador, giving tours to prospective students and their parents. "I loved meeting new families and encouraging girls to come to Saint Mary's," says Laura.
Laura was also a volunteer at Memorial Hospital in pediatrics, playing board games and doing crafts with patients. "There is nothing like making the day of a sick child who just wants to be at school with their friends." Laura also helped to plan the Indiana Residence Hall Organization Conference, held on Saint Mary's campus this year.
Like many students, Laura took advantage of the opportunity to study abroad, traveling to Rome during the spring semester of her sophomore year. "There is nothing like living on your own in a foreign country for four months," says Laura of her chance to travel to five countries, and to "soak up" the Italian culture. "The Rome Program is very well run, and I miss everyone at the Hotel Tiziano where I lived during my time there. They became like family."
The St. Louis, Mo., native is spending her summer as an intern at the global public relations firm, Fleishman-Hillard in St. Louis. Of her future after this summer, Laura says, "I would love to work in publishing, public relations, or take time off to write."