Like Nobody's Business - Allison Rhea '13
Like Nobody's Business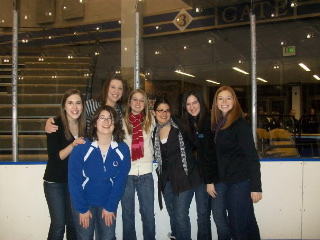 Allison Rhea '13 (in blue) and friends
at a Notre Dame hockey game
As Allison Rhea '13 was growing up, business skills and ideas were dinner table topics. When she landed a job in the Shaheen Bookstore on campus last fall, Allison turned the opportunity to her advantage. She's not just ringing up sales; she's gaining valuable work experience and learning a business from the inside out. "I have always been interested in the business world, how it works, and what goes into success," says the Carmel, Ind., native.

Conversations with store manager Mike Hicks and her position as a bookstore team member inspire Allison as she looks forward to majoring in accounting. So far, one of her favorite classes is marketing, which she says combines reading with real world applications of business concepts. Throughout these experiences Allison says she's learned valuable leadership skills, which she'll apply in the workforce after graduation.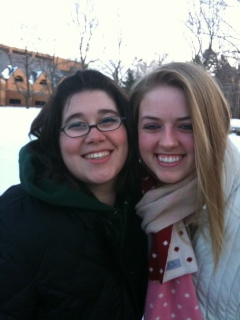 But this first-year student isn't all business. She has heart too. Only in her second semester of her first year, Allison has already participated in many volunteer and faith-related activities. As a member of the Rotaract Club, Allison helped fill shoeboxes with necessities for children living in poverty during the holiday season. She has also explored her faith as a peer mentor for Campus Ministry, helping with various events, including one of the Theology on Fire sessions. Allison also helped prepare for the upcoming Dance Marathon as part of the Corporate Sponsors and Incentives Committee.

In her short time here, Allison has already begun to appreciate the impact Saint Mary's has made on her and the many women who have gone before her. "The College builds women's confidence and teaches women to express themselves effectively in speech and written communication," she says. She already knows her knowledge and friendships will expand well beyond the classroom and her college years. 

—Sarah Sheppard '11