Living History
Living History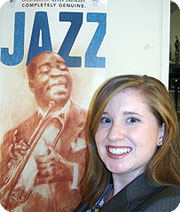 There were times when Danielle Taylor got a little tired of answering the question, "So what are you going to do with that history major?" Let's face it, not everyone was a true believer.
But in the past year, the 2006 Saint Mary's alumna hasn't had time to think about why anyone even wondered. Right after graduation, she absorbed all the history she could participating in the College's European Summer Study Program. Last fall she did an internship at the Smithsonian National Museum of American History in Washington D.C. She also works as a docent at the Sewall-Belmont House and Museum on Capitol Hil, and landed a new job as a sales assistant with the New York Times' Washington D.C. Bureau.
"It's been pretty busy for me," says Dani. "It's been a blast!"
Dani's internship at the Smithsonian grew directly out of research she did during her senior year at Saint Mary's. "The Museum has a wonderful jazz collection, and my senior comp focused on how ragtime and jazz affected women," she says. She researched controversies in American jazz history for a book during her internship. When it ended, the museum hired her to compile a list of jazz holdings and photographs in their collection.
"The history major can lead you to anything, as I'm experiencing right now," says Dani. "What I liked most about the major at Saint Mary's was that it allows you to follow your own passions. They give you a basic understanding of history but also, the flexibility to explore your own interests."
Dani uses the skills she learned as a history major every day. "At Saint Mary's, they focus on writing and it's helped me in more ways than I could imagine," she says. For Jazz Appreciation Month, she wrote about events and posted them on the Smithsonian Web site; she's corresponded with scholars and musicians around the world about projects.
Attending a women's college—and focusing on women's history—helped Danielle get her job at the Sewall-Belmont House, where she gives tours on the women's suffrage movement. She thinks her networking skills got her in the door at the New York Times, since she first heard about her job through a contact made at a Smithsonian event. "Saint Mary's encourages women to be confident and social," she says. "You just never know how that's going to help you."