Major by Design
Major by Design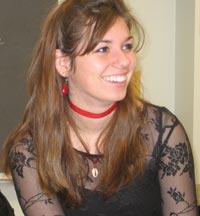 When alumna Renee Woodward was a sophomore at Saint Mary's, she declared a major that was off the beaten path. She combined her interest in communication and gender studies into a student-designed major (SDM) in communication studies and women's studies. "I had the luxury of taking authority over my education," she says. "Obviously, I was advised by the amazing faculty at Saint Mary's, but ultimately how I chose to learn was up to me." Woodward worked with a SDM committee, which included two faculty advisors, to design a major that best suited her interests and career goals. This meant she would be exposed to a broader range of campus departments and courses than she would in a traditional major. "I had the opportunity to learn from a great variety of professors in different disciplines, maximizing the ideals of a liberal arts education," says Woodward. It also meant that she was faced with the responsibility of achieving very specific academic goals.
Luckily, Woodward had her SDM committee faculty advisors who guided her through the completion of her major. She also found a special faculty mentor in Assistant Professor Terri Russ . "I truly admire Dr. Russ's dedication to women's issues, her honest style of teaching, and the advice she gave me in the last several weeks of my senior year," Woodward reflects. Woodward's involvement with the Saint Mary's community and her close relationships with faculty and staff led her to several leadership roles on campus. She took part in theatre productions and in her senior year acted as Women's Issue Commissioner for the Board of Governance (BOG), as well as director of the Women's Resource Center.
Her experience as an SDM exposed Woodward to courses she loved like Social Construction of Gender, History and Criticism of Public Address, and Female Beauty taught by Dr. Russ. The SDM sent Woodward down a career path that has led her to a job in politics. "I graduated in an election year and I've always had an interest in politics," says Woodward. In her most recent position in Grayslake, Ill., Woodward acts as Field Organizer for Melissa Bean for Congress. When asked how Saint Mary's prepared her for this type of work, Woodward responds with her desire to change the world. It is a desire she says was nurtured in her by her Saint Mary's professors and the College community. "I believe in the inherent good of people and I want to work towards that good. I want to work towards and inspire others to work towards the betterment of our communities, our families, and our country. I want the women I meet to see themselves as beautiful and good enough; I want the children I meet to have the opportunities I have had; and I want everyone I meet to work for equality and social justice in their own lives." That, she says, is how people can create change and make a difference in the world.