Major Moves
Major Moves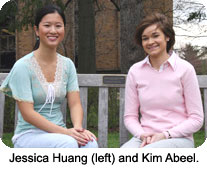 If you pluck any two Saint Mary's students from a crowd, chances are they'll seem different at first—like Jessica Huang and Kim Abeel. Jessica, a sophomore from Florida, is earning a single major in English writing. Kim, a junior from Michigan, is triple majoring in philosophy, religious studies, and classics.
But spend more than five minutes with each woman and you'll learn they share something important: an adventurous love of learning and the desire to make the most of their liberal arts education.
For Jessica, this means majoring in English, a field she says flexes her "imagination and intellectual might." After four years of high school French, she's opted to continue those studies in college, not as a second major but for the "sheer satisfaction of learning a second language."
That choice leaves room in Jessica's schedule for courses that satisfy her personal interests and curiosity. "As a single major, I'm allowed to taste-test an assortment of liberal arts courses that enrich and broaden my knowledge," she says. She'll continue to expand her horizons junior year, studying abroad in Israel.
For Kim, spending sophomore year on the Saint Mary's Rome program opened up new possibilities as well. "I have always been interested in religion and philosophy," she says. "But I realized that my education would be greatly enhanced if I could study the societies and cultures out of which they grew." Since returning from Rome she's taken classics courses across the street through Saint Mary's co-exchange program with the University of Notre Dame. In May, she'll join the Greece Summer Study program to continue learning about the ancient world.
"I'm really just studying what I want to study and feel very privileged to have the opportunity to do so," says Kim, who also works at the campus Writing Center and is involved in campus ministry. "Some might say that triple majoring allows me to explore only the surface of each subject," she reflects. "Perhaps this is true, but it's important to realize that nothing—neither religion, nor biology, nor economics—exists in a vacuum and should be studied as though it did."
Jessica and Kim have the same counsel for those yet to decide their educational paths. "My best advice is to study what you love," Jessica says, "because if you don't, you're not going to put you heart into it." Kim adds: "A major should be the last thing on a student's mind. What's important is that she is learning. I think that's what college, and the experiences that go along with it, are for."