Making Her Way
Making Her Way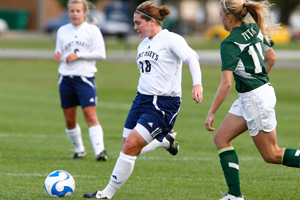 Bridget Ronayne #18 in actionMore than 16 years ago, Bridget Ronayne '10 first stepped onto a soccer field.  While the implications of that choice by a five-year old were not clear then, that decision would literally open a world of opportunity.
The English literature major from Lake Zurich, Ill., was encouraged by her high school advisor, a Saint Mary's alumna, to look at Saint Mary's.  She then decided to take that critical first step onto the grounds of a college steeped in tradition in the fall of 2006 and made an immediate impact on the soccer team and beyond. It is well known that Saint Mary's provides its students with opportunities for growth and development.  What is not always realized is that Saint Mary's women embrace their opportunities to become the leaders of tomorrow through their actions today. Bridget is one such Saint Mary's woman.
Bridget has traveled to England and Scotland with the soccer team and has studied abroad in Rome for a semester while taking full advantage of her Saint Mary's experience. She is a captain on the soccer team, serves as the president of the Student-Athlete Advisory Committee (SAAC), participates in intramurals, is active in the English department, and finds time to work in the athletic department.
"Saint Mary's means professors, friends, teammates, and coaches working together because we feel as though we can improve who we are and what we want to become," Bridget says about her experience. "It has been a place that I feel at home because of the great people looking to help me become the best me."
Aspiring to become a soccer coach, one day it will undoubtedly be Bridget who will encourage some five-year-old girl to take that critical first step onto a soccer field. "Being a varsity student-athlete has helped me to learn and practice leadership skills on and off the field. It has provided me with opportunities like SAAC, volunteering, and traveling. From soccer to SAAC, I know I have gained the leadership skills to help guide people to a common goal."