Marching On
Marching On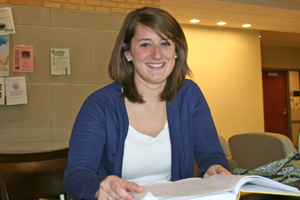 After searching all over the Midwest and the East coast for a college, senior Tracey Chuckas found the right fit for her close to home. A native of Saint Joseph, Mich., Tracey remembers how she was drawn to Saint Mary's by the homey feeling of the campus. "Of all the colleges I toured and visited none felt like a second home and none even compared to the experience I had on my visit to Saint Mary's," Tracey says.
The psychology major and communicative disorders minor, notes that there have been many faculty members who have supported her along her journey. "Professor Catherine Pittman, in all of my psychology classes, has supplied me with much knowledge. Professor Susan Latham has always been there to give me advice and help me throughout my many career idea changes. She was the very first professor to show interest and really care about my success. Professor John Fotopoulos has increased my knowledge tenfold about Greco Roman history and the history of the Bible, making me a more educated Christian. His classes were always so engaging and never left us uninterested," says Tracey.
When she is not hard at work studying for her classes, Tracey spends her time playing the clarinet in the University of Notre Dame Marching Band. "I can't imagine my college career without being a member of the band," Tracey says. "The friends I have met, the places I have traveled to and the amazing memories I have made are something that I'll never forget."
When first becoming a member of the band, Tracey was the only first-year student from Saint Mary's in the clarinet section. Fellow clarinet and then Saint Mary's senior, Chelsea Chalk took Tracey under her wing and became her senior mentor. This year Tracey has come full circle and, as a senior, is mentoring first-year student Katie Kyler, who coincidentally is the only Saint Mary's first-year student in the clarinet section.
Every band member has a moment when they get pumped up for performing at the football game, Tracey says. Hers is looking up before they march into the tunnel to see the fans on the top of the stadium looking down at them.
"I get chills every time because those people are there to see us," Tracey explains. "The teams have gone into the stadium and are already practicing but the fans are there to see us. It is surreal."
With graduation looming in the spring Tracey is thinking ahead and looking into career paths. She is currently looking into either doing service work with AmeriCorps, or finding a job with the government in Washington DC.
"I have a lot of different options, which makes the process complicated," Tracey admits. "Whatever I find myself doing it will involve helping and aiding those who need assistance. My view of my career is to leave my impact and help people."
With a world of possibilities awaiting her, Tracey is confident that her Saint Mary's education will help her with whatever life throws her way. "The smartest thing I have done is to attend a liberal arts college. The diverse background I have has made many of my future career plans a possibility," Tracey says.
—Nikki Taylor '11