Market Value - Heather Quick '10
Market Value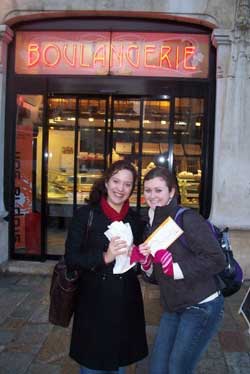 Heather Quick '10 (right) spent a semester
in Dijon, France.
It's not often you meet a college student who is working on contract for a big company like Motorola. But that's exactly what Heather Quick '10 did throughout her senior year.

Heather is a recent graduate who earned degrees in business and French with concentrations in international business and marketing. Last summer the Grand Rapids, Mich., native completed an internship with Motorola in Schaumburg, Ill., and she continued to do contracted marketing work for the company from campus.

The hands-on experience was invaluable to Heather who plans to work in marketing research. "I love both the creative and the numbers sides of marketing. I love using my creativity as well as my analytical skills," she says.

Both qualities are evident from her choice of campus activities, which included the French Club, of which she was president from 2009, Web site design for the Catholic Fellowship at Notre Dame, and the Movies Committee of the Student Activities Board (SAB).

The dynamic campus community stood out to Heather four years ago when she made the decision to attend Saint Mary's. "I really felt like part of the community as soon as I stepped on campus. I decided on Saint Mary's because of the opportunity to receive an outstanding education and grow in my faith at the same time," she says.

Heather was also drawn to the College's study abroad opportunities and spend a semester living "the French way of life," as she puts it, in the Dijon, France, study abroad program. She lived with a French host mother, which naturally enhanced her speaking skills as she adapted to a culture and way of life that were totally new to her.

Heather's not kidding when she says the semester in France has been, by far, the best experience of her life. It taught her to live outside of her comfort zone and rounded out her liberal arts education through experiential learning.

Heather says she has changed most notably in two major areas since her first year at the College. "Saint Mary's has taught me how to be a more independent woman, and has also taught me that I can do anything as long as I set my mind to it." That determination will come in handy in the world of big business.