Maximum Exposure
Maximum Exposure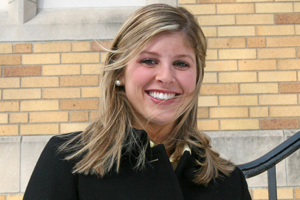 Sometimes father does know best, according to senior Kristen Edelen. The native of Louisville, Ky., was encouraged to attend Saint Mary's by her father, a University of Notre Dame graduate. Edelen says the best part of being a Saint Mary's student is the community and the friendships. "For me that's the most important thing. Knowing that I have enjoyed my company—classmates, professors, administrators, roommates, even late night desk workers in Holy Cross Hall," says Edelen. "The people of the Saint Mary's community have made my college experience remarkable and tremendously enjoyable."
Edelen is an English writing and communication studies major and says her senior writing composition class was her favorite. "I absolutely loved the idea of creating something that was exclusively mine. To look back on a finished project of 70 pages of me—my idea, my story, my hard work, is a tremendous feeling of accomplishment," says Edelen of her young adult fiction project.
No stranger to working hard, Edelen took on an internship during the summer before her sophomore year, working for alumna Julie Raque Adams '91. Adams was an elected official in Louisville, and Edelen worked for her as a legislative aid for two summers. "I so admire and look up to Julie because she is the exemplar of an accomplished and successful Saint Mary's woman," says Edelen. "She is doing her part to ensure that the next generation of Saint Mary's women is afforded the same opportunities that she had, and that they are strong, successful, and forward thinking as is promised by Saint Mary's reputation."
Edelen is keeping busy this semester as a volunteer tutor for Slice of Life, an after-school tutoring program. She is also an intern for Courier, Saint Mary's alumnae magazine. "As a second semester senior I am happy to have some on-the-job experience," says Edelen. "I'm excited to try out my writing wings, maybe even earn a byline or two."
Edelen has rounded out her Saint Mary's experience in a number of ways including studying abroad in Rome. "I loved Rome," says Edelen. "Any student or prospective student reading this, you have to go to Rome. I studied in the Eternal City the fall of my sophomore year, and it was incredible to wake up each morning to the view of the Pantheon out my bedroom window. Everyday was an adventure."
Not all work, and no play, Edelen loves basketball and is the captain of the intramural team she has played on since her sophomore year. Her team boasts a two-year championship reign. "We are going for a three-peat, and really hope that some hotshot first-year team does not overthrow us," says Edelen.