Meeting Across the Miles
Meeting Across the Miles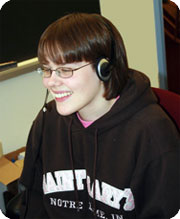 It's cold outside in Indiana, but Kaitlin Cox doesn't care. For the next hour, she's going to Guatemala for Spanish class.
Kaitlin is enrolled in Spanish for the Medical Professions, a new course that uses live video technology to bring students and native speakers together for one-on-one language tutoring. A senior in the Saint Mary's nursing program, she is busy running between classes and clinical assignments. But twice a week she straps on a headset, logs on to a computer, and connects via Webcam, voice, and instant messaging technology with her two tutors—Marco and Sheny—in Antigua, Guatemala.
When Kaitlin began working with Hispanic hospital patients in her hometown of Fort Wayne, Indiana, improving her language skills became a high priority. "I had interacted with Spanish-speaking patients in the past, but now that I have the medical Spanish class, it's easier to speak with them," she says. "I've learned a lot about culture, too, including the kinds of options available for medical care in other countries."
Saint Mary's is one of the first colleges in the country to offer the tutorials in partnership with InterLangua, a Chicago-based company. Besides medical Spanish, the College also offers Spanish for the Business World and general tutorials. Students in any major—and even faculty and staff—can program sessions to fit their schedules and build proficiency at their own pace.
It's a little bit like studying abroad without leaving campus.
"Pedagogically and professionally, it's allowing us to do things that we could never do before," says Spanish Professor Gerald Gingras, who oversees the program. "We're studying languages for our professions, for our lives, for our betterment … and this is part of it."
Working one-on-one with teachers who tailor the class to her needs has increased Kaitlin's fluency, she says. The fact that her tutors speak very little English also forces her to find the right vocabulary to communicate in Spanish. "It's challenging, but it's also interesting. I can respond more quickly in Spanish now. I don't have to stop and think as much," she says.
Connecting with Sheny across the miles, Kaitlin is completely immersed in speaking and listening. Their rapport is clear—so much so that the distance, and the snow outside, seem to melt away.