Mission Driven
Mission Driven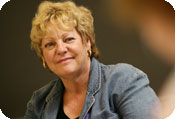 Education professor Kitty Green is on a mission—unofficially. First, she says, "I want my students to go into their classrooms with essentially the same quest that I've had—which is to teach so your students learn and have fun." Second, she wants to prepare Saint Mary's education grads to become effective teachers in diverse classrooms.
Often the schools where Saint Mary's graduates will teach differ radically from the schools they learned in, and their backgrounds contrast with those of their students. "The kinds of people going into the classroom [as teachers] now tend to be white, female, and middle to upper middle class—and the students they're working with aren't that at all," says Green.

Two of Green's courses, Teaching in a Multicultural Society and Theory and Practice of Multicultural Service Learning, try to bridge the gap. "The first thing they've got to come to terms with is their own cultural identity," Green says of her students. "Then, they must come to appreciate the cultural identity of their students, get to know each of them as individuals, and think of their students as 'at promise' as opposed to 'at risk.'"
According to Nicole Garcia, a 2004 graduate, Green's approach is right on target. "She was so adamant that we know our students' backgrounds and who they are as people, and that we walk in their shoes in order to best reach them," says Garcia, who teaches English at an ethnically diverse public high school in South Bend, Indiana. "She taught us that we couldn't just blindly walk into the classroom and assume that our students would trust us, if we didn't take the time to get to know them and show them we cared."
Another part of Green's mission is to build strong networks among education graduates so that they can help each other to succeed professionally. "When they scatter to the winds to teach in all these schools all over the country, I want them to have a support system," she says.
Angela Saoud, a 2005 graduate, says Green "truly, truly cares about her students and their successes. She is genuine, kind, intelligent, and inspiring. She passes on her wisdom in a way that makes you sure of the decision you've made to teach. And, she is one of those professors that you keep in touch with—because you want to, and more importantly, because she wants you to."