Music as Healing
Music as Healing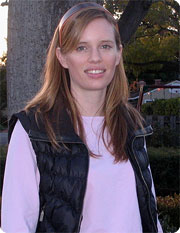 When Martha Hartwich goes to work each day, she engages her brain and her heart in equal portions. A registered nurse, Hartwich works on the intensive care unit of Sharp Mesa Vista Psychiatric Hospital in San Diego, California. She says that as soon as she walks through the hospital doors, she goes into "crisis stabilization" mode, caring for the most acute patients.
Martha graduated from Saint Mary's College in 2001 with a music degree, and then obtained her nursing degree in 2002 through the nursing program at Saint Mary's.
"Science and music have always been my two passions," says Hartwich. "While I have always wanted a career in a health profession, music is a big part of my life as well. It gives me a different perspective. It reminds me that there are beautiful things, even though I see patients with awful stories and difficult lives. It's a stress release for me."
But music isn't just for Martha's own edification. She often has an audience. She and a friend began an open mic night in downtown San Diego, where she plays the keyboard and sings. "We get good turnouts…we even have a few regulars in the summer," she marvels. She also plays piano for her patients sometimes. "It's like therapy for them, too."
A Minnesota native, Martha doesn't plan to head back to the Midwest any time soon; she just started grad school at the University of San Diego to pursue a master's degree in nursing.