New Heights
New Heights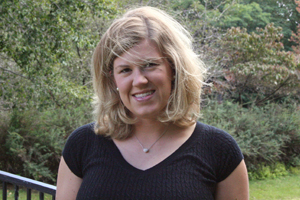 Nursing major Margaret Lindley says she always wanted to be a nurse because it fit her personality well. She was also inspired by the great nurses who treated her when she was sick as a child. "I started to admire their work and knew that I wanted a job where I could help people and make a difference in their life," says Lindley who will graduate in December. After graduation, she'll test for her nursing license and then be commissioned as a 2nd lieutenant in the United States Air Force. Lindley will be assigned to the Nurse Corps, working at Landstuhl Army Regional Medical Center in Germany as a medical-surgical nurse. "I am very excited to be moving overseas for my first assignment out of college! I took German in high school and at Saint Mary's so I am excited to put my language skills to use."
Lindley is a cadet in the Air Force Reserve Officers' Training Corps (ROTC) at the University of Notre Dame. This summer she had the chance to participate with 15 other students from around the country in a two-week cultural immersion program in Turkey. "During our stay there was a bombing in the city. Thankfully we were all safe but it did teach us situational awareness," says Lindley.
Lindley says one of the major cultural differences between Turkey and the U.S. is the treatment of women. "At Saint Mary's we are taught to be independent proactive leaders. However, Turkey is a Muslim country, and women have a different role. I rarely saw women walking around alone; they were usually accompanied by men," explains Lindley. "When I went into mosques for the very first time, I had to wear a head scarf. All the women on my trip had to do this. We also had to make sure that our shoulders were covered and our legs were covered past our knees–a new concept for me!"
Lindley also spent a month this summer participating in the in Air Force ROTC's Nurse Orientation Program at Wilford Hall Medical Center on Lackland Air Force Base in San Antonio, Tex. "It was a great way to learn about different types of nursing and to help me decide what kind of nurse I want to be. I got first hand experience in a military hospital and learned about the difference between military and civilian nursing," says Lindley.
Lindley is involved in a number of activities at Saint Mary's as well. She is involved in the Student Nurses Association (SNA), the Arnold Air Society [a service organization through Air Force ROTC], the Judicial Board (JBoard), and she works at Angela Athletic Facility. Lindley says that she chose Saint Mary's because she knew several alumnae who were very successful after graduation. "Saint Mary's offered everything I was looking for–a small, personalized community atmosphere, a nursing program, good distance from my home, financial assistance, and advantages of Notre Dame," says the native of Naperville, Ill.
Lindley's educational experience at Saint Mary's was aided by financial assistance through the College. "Saint Mary's is worth every penny I have paid. Education is priceless and I consider it an investment in my future. The financial aid package offered to me at Saint Mary's was influential in my decision to attend the school. I think there is a major advantage of attending a small, private, Catholic institution and I do not regret my decision."