New York, Here We Come
New York, Here We Come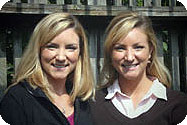 The first thing you notice talking with twin sisters Emily and Lauren Lavelle is that they don't finish each other's sentences. Instead, one says something smart. The other listens, thinks for a split-second, and says something even smarter.
These girls are good. And wouldn't you know it? They're English writing majors.
The Saint Mary's seniors got a chance to take their verbal skills to the big time this summer as interns in the New York City publishing business. Emily landed an assignment with Random House, doing editorial and production work for the Fodor's travel guide series. Lauren worked at BusinessWeek.com, one of 19 young writers to earn a spot on the magazine's summer farm team.

Besides honing their craft in the Big Apple, the sisters made some important discoveries. First, their writing and communication classes at Saint Mary's prepared them well for the assignments. "The other interns were from all over—schools like Columbia and Harvard," said Lauren. "But we were right up there with the best of them."
Coming from a women's college gave the twins another edge. According to research, students at women's colleges participate more fully in and out of class and excel in traditionally male disciplines. According to Emily, she felt comfortable and confident among the crowd of 50 interns at Random House. "I was the only woman asking questions in meetings," she says.
Interestingly, neither sister was an advocate of single-sex education before attending Saint Mary's. Back in high school, the first question they asked their mom when they heard about the school was, "Are there boys there?"

Emily says her initial attitude was, "I'll give it a try—I'll have an open mind. But over the three years that I've been here, I've come to recognize that being in an all-women's environment is really an amazing thing, and something to be prized, to be valued."
Lauren agrees. "I think that Saint Mary's really pushes you to not only to see yourself, and to see the world, but to see yourself in the world."
So where do they see themselves next? "We both want to move back to New York and do something in the publishing, writing, or editing field," says Lauren. "We made a lot of contacts when we were there."