Nice on Ice
Nice on Ice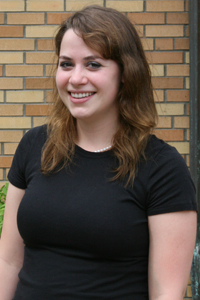 Many students go to college to "find themselves." Kate Ortigara '10 came to Saint Mary's and found skating. "I just started skating in college and fell in love with the sport. I now compete as well as coach at the rink in town." The Tinley Park, Ill., native has been a member of the University of Notre Dame Figure Skating Club and the president for one year. She has performed in an exhibition and at a Notre Dame hockey game with the synchronized skating team. She also competes as a singles skater representing Notre Dame.
In addition to skating, Kate finds time to participate in Friends with Sisters, going to Mass and enjoying brunch with one of the Sisters of the Holy Cross. Kate is also a student ambassador—acting as a tour guide for prospective students. "I feel honored to be able to share my love of Saint Mary's College with prospective students and parents," says Kate.
Kate is working on a double major in English writing and elementary education with hopes of teaching English. " I am given a lot of support from the education and English departments in pursuing my double major," says Kate. "All of the education professors, as well as everyone else in the education department, have been extremely supportive of my quest to become a teacher. My writing professors, Professors Bonnell, Hwang, and Westler, have inspired me to become a writer and have taught me so much. I really fell in love with writing this [past] semester," says Kate.
Kate says that she would love to keep writing after college. "I am looking forward to writing my senior comprehensive paper, and I hope that it will give me a good springboard for writing that I will do after college." She's also ready to be a teacher. "I think that Saint Mary's is preparing me for my future because I have had the opportunity to observe all different types of schools and different grades as part of the education program. Doing so has helped me realized that I would someday like to teach in the upper elementary or middle school grades."