Nikki's Shamrock
Nikki's Shamrock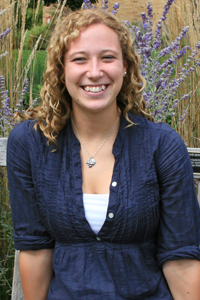 Look for a sparkly green shamrock attached cheerily to a dorm room door in the long corridors of Holy Cross Hall and you will find Nikki Taylor '11. Like many of the lucky Saint Mary's ladies that bravely travel to Ireland for a study abroad program, Nikki proudly displays her shamrock on her door as a sign of her accomplishments both at Saint Mary's and in Ireland.
Nikki "decided to come to Saint Mary's College almost entirely on a gut feeling" that she was meant to be here. She believed that the College was a great fit for her needs, goals, and talents. She was not disappointed. She was glad to find that her professors were actively involved, both in and out the classroom, in her education. Nikki says, "One of the things I love the most is that the professors really build a rapport with their students."
Saint Mary's College has also given the English writing major the opportunity to gain knowledge and experience in the field of writing, which is what she hopes to do when she graduates. Through Saint Mary's, Nikki is now a news writer for the Observer and has worked in The Observer office since her first year.
Nikki tells other students at the College that deciding to take part in the Saint Mary's College study abroad program in Ireland "was the best decision I ever made after picking Saint Mary's in the first place." Studying abroad had a great impact on Nikki. Being abroad pushed her to mature, be independent, and become self-reliant. She also became best friends with the other Saint Mary's students that were in Ireland. These friendships continued once they got back to the states. "You rarely see one of us on campus without another Ireland girl close by."
Nikki strongly feels that Saint Mary's pushed her to strive to be the best and to get involved. The College made it possible for her to go abroad, where she learned more about herself, and to achieve academic excellence while on campus. For those reasons she proudly displays her shamrock on her Holy Cross door and happily exclaims that Saint Mary's College "is such a great fit for me and I'll always trust my gut."
—Lauren DeBruce  '11