Not "The OC"
Not "The OC"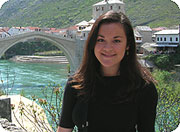 "Ich hab' es ! Ich muss Mutter anrufen!"
Those words—"I got it! I have to call Mom!"—are what first popped into Nina Helmen's mind after learning that she joined the elite ranks of the world's Fulbright scholars. She returned to the States from Cologne, Germany, just this summer after 10 months teaching English to German students as part of her Fulbright Fellowship.
Nina graduated in May 2005 as a communication studies and German double major. She is a third generation Saint Mary's alumna, following in the footsteps of her mother and late grandmother, who got their respective degrees in 1977 and 1948.

"Foreign language and culture have always interested me; I have family in Germany," says Nina. "But it was my modern language professors and study abroad experience in Austria while I was a sophomore at Saint Mary's that really gave me the confidence and drive to pursue a teaching assistantship position in Germany through the Fulbright program."
Nina says that, while she was hired to teach the English language to German teens, she found that cultural enlightenment would need to find its way onto the syllabus as well. "When I first met my students, their idea of America was completely off; they had a Hollywood version of the United States in their minds. They perceive the U.S. to resemble something in between The OC television show and cowboy movies. They are infatuated with our culture, but blindly hostile toward our government. So much of what they know or believe is driven by the media. My job was to present them with a more accurate image of America."
Now a diamond specialist working for an importer in Washington, D.C., Nina is studying to become a gemologist. Because the diamond business is an international industry, many working within it are bilingual, which has given Nina the opportunity to use her German regularly. It has impressed her boss, too, who feels that Nina's confidence and intelligence shine through in all of her interactions.