A Nurse's Journey - Caitlin Murphy '09
A Nurse's Journey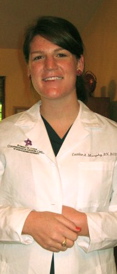 Caitlin Murphy '09 has learned a great deal about life, and about cancer, through her nursing career. Most significantly, her patients have taught her that cancer may go into remission, but its effects are long lasting in many ways. "You may garner your physical strength and move forward, but the psychological and spiritual challenge that was brought about through the whole diagnosis will always be a part of the patients' and their families' lives," she says.
After graduating from Saint Mary's, Murphy worked as a registered nurse in the oncology unit at Baylor University Medical Center in Dallas, Texas, through June 2010. She is now a nurse clinician at Northwestern Medical Faculty Foundation in Chicago.
Murphy's work as an oncology nurse was to find her place in each of her patient's journeys through treatment. She says that role, for her, was a perfect blend of "scientific innovation and knowledge with personal compassion and spiritual understanding." Her experiences with patients at Baylor, "sealed my fate," as she puts it, in the nursing profession.
"I simply love caring for patients who require my critical thinking, adaptation, fast and confident decision-making, flexibility—all the while maintaining the personal and spiritual journey that commences with serious diagnoses," Murphy says.
Her education through Saint Mary's nationally accredited nursing program helped Murphy cultivate those qualities. The hands-on experience she received through clinical field placements now seems invaluable. She and her fellow nursing students spent long hours at South Bend area hospitals prepping for rounds with their professors, contributing to patient treatment plans, and learning to make decisions that would positively affect the lives of real patients. 
She says the nursing department became part of her extended family, her home away from home. "Courses were challenging, hours spent in lecture and lab were long, but our professors' doors, and our peers' doors, were always open. The sense of community was immense. We were all in it together," says Murphy.  
Now Murphy is taking what she learned at Saint Mary's, and through her first job as an oncology nurse, to patients at the Northwestern Medical Faculty Foundation. Every day, she challenges herself to make a difference in the world by touching the lives of her patients.
"I would like to believe that my world right now is a small population of patients that I care for on a daily basis," says Murphy. "But, the more I learn here, the more I open up opportunities for myself to be part of mission work, cancer research, pro bono clinic work, health care education, and ultimately health care reform."