Of What Service Can I Be? - Angela Hollar '11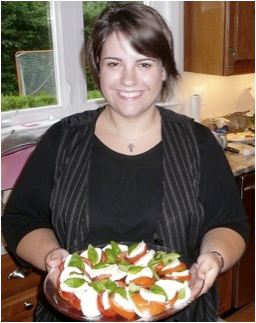 Angela holding a "very Italian" caprese
salad. One of her passions is Italian
culture and she spent a semester
studying in Rome.

Of What Service Can I Be?

        "How can I be useful, of what service can I be?
        There is something inside me, what can it be?"
        —Vincent Van Gogh

Senior Angela Hollar's resume of service is, like the 40 percent of Saint Mary's students who perform volunteer work, longer than most. The social work major from Mishawaka, Ind., spends her free time working in the community and has developed a comprehensive understanding of social justice issues from her experiences.
Angela works closely with her social work professors, like Professor Fran Kominkiewicz (or, "Dr. K.," as her students call her), to put what she's learning in the classroom into practice. "Collectively [my professors] are helping me to personally define the words 'leader' and 'justice' by guiding me through the process of self-discovery. As they each know my individual strengths and weaknesses, they are helping me to figure out how I can best use my gifts to help others as a social worker," she says.

So far, Angela has developed those gifts through the student-run Social Work Club, the Indiana-based Read to a Child program, and as a rape victim advocate for the S-O-S program at the local Family Justice Center, to name a few.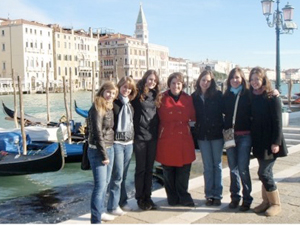 Angela and friends in Venice.
Angela is spending her summer interning with the St. Joseph County Family Justice Center (FJC), working with victims of domestic violence. It's an intensive internship. She's learning to facilitates intakes, lead support groups, write grants, and develop programming for FJC clients. 

The position suits her primary interest in studying gender-based violence around the world. "I would like to use this knowledge to teach other social work students about how these issues fit under the social work umbrella of 'human behavior in the social environment,'" she explains. In the future, she hopes to find herself right back in the classroom, as a social work professor.

While Angela is dedicated to her goals, service among the diverse populations with which she works can be challenging. Social work requires a lot of energy and patience as well as a broad base of knowledge. To refresh, Angela relaxes with her friends at a local hangout, Fiddler's Hearth. She enjoys a good game of pool and even plays in tournaments. Fun and friends, she says, are the best part of her life at Saint Mary's. "The Saint Mary's environment lends itself easily to forming genuine, quality connections," she says. "The friendships I have made with fellow students, professors, and mentors will last for decades to come."