Devoted to Saint Mary's: Olivia Brach '12 Loves Sacred Aspects of the College
If you ask Olivia Brach '12 to write about what she loves about Saint Mary's, you'll get a poetic answer.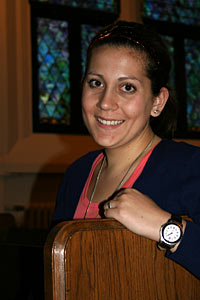 Olivia in the Le Mans Hall chapel.
"I love that I can go to daily Mass with the Sisters at the Church of Our Lady of Loretto. I love the drive down the Avenue. No matter what the season, the Avenue always takes my breath away," she writes.
"I love that there is a different crucifix in every classroom. I love that my professors know my name, and I love that I can drop by their office any day for help or just to chat. I love the high ceilings in Holy Cross Hall and the chapel in Le Mans Hall. I love the Ireland study abroad program. I love the cushioned seats in the dining hall, and the fact that I know most of the dining hall workers."
And she loves the close-knit community of the College. "At Saint Mary's, one cannot just blend into the crowd. One cannot just sneak by through the four years here. Your professors are going to reach out and get to know you. The students here are all very close. There is a good chance that, though I haven't met you, I know who you are," she said.
Olivia, an elementary education major from Granger, Indiana, relishes the hard work and challenges that characterize the Saint Mary's experience.
An ardent writer, she is a reporter for The Observer, the student newspaper for the University of Notre Dame and Saint Mary's, and a contributor to the most recent issue of Bellezine, Saint Mary's student-published magazine.
Through the Office for Civic and Social Engagement's Liaison Program, Olivia volunteers with Dismas House of South Bend, a home for former prison inmates. Her role is to communicate with Dismas House to find out how Saint Mary's can help. "That could be anything from donating old bed sheets and canned food to helping clean the house," she said. Last semester, she and a group of other students helped paint the second floor of the house. "It was a ton of fun, and a great way to reach out to the South Bend community," she said.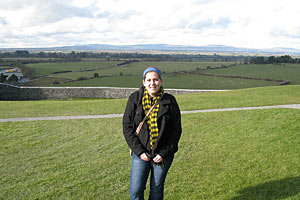 Olivia in the Irish countryside.
During her sophomore year, Olivia studied abroad in Maynooth, Ireland. "I learned how to be independent and was able to travel all around Europe," she said. "I lived on campus with Irish students and had classes with Irish students as well. I made tons of Irish friends and even got to visit their homes and hometowns! I have learned to enjoy the challenges in my life with a smile and a good sense of humor—this is the Irish way."

Olivia, right, and her friend, Megan
Dempsey '12, admire the Cliffs of Moher
in County Clare, Ireland.
Olivia is putting her future into God's hands. "I know He has called me to be an elementary school teacher, so that is the profession I will pursue," she said. "I will hopefully be teaching students, but as to where, I am not certain. It is a difficult job but I am up for the challenge. I love, love, looooove working with children, and I love being in the classroom."
Even if that classroom is in another country: "I have also been praying about/tossing around the idea of doing a mission trip to another country," she said, citing Uganda specifically. "But who knows! Life is full of surprises!"