On a Mission
On a Mission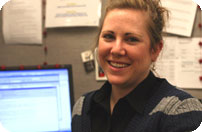 At last year's commencement ceremony, Ginger Francis and her fellow graduates received a laminated card with the Saint Mary's College mission statement on it. She has carried it with her ever since, and looks at it almost every day.
"Among other things, it's a pledge that we serve our community and our world," says Francis. "Saint Mary's instilled that in me. I thought I was doing it on my own at first, but I realize that I was guided by my college experience."
Francis considers herself an activist at heart. She grew up in an environment of domestic violence, an experience that spurred her to reach out to women in similar circumstances. "I didn't want other women to endure the life that my mother did," explains Francis.
A psychology major and women's studies minor, Francis is big believer in experiential learning, or learning by doing. As a student, she volunteered for Sex Offense Services in South Bend where she was trained to help women who had survived sexual and domestic violence. "That was pivotal in my activist life," says Francis. "My women's studies and psychology professors gave me the intellectual foundation and motivation I needed to succeed. Volunteering honors that foundation and puts it to work."
Now an Individual Development Manager at The Cara Program in Chicago, Francis helps homeless and at-risk individuals maintain employment and stabilize their lives. "I began to focus on the issues of racism and poverty when I took the Catalyst Trip my junior and senior years at Saint Mary's," says Francis. Sponsored by the Center for Women's InterCultural Leadership, the annual trip occurs during fall break. It takes students, faculty, staff, and community women to visit inner-city neighborhoods, the National Underground Railroad Freedom Center, and other places where they can examine issues of race and privilege together.
Francis says her future includes graduate school, but she needs a few more years of professional experience before determining which path she'll take. "Some core things will always be with me. My work will always focus on alleviating the social injustices that plague our world."