Open Wide
Open Wide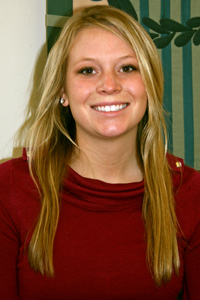 Junior Jessica Bodenberg could have spent her semester break sleeping in and playing in the snow. Instead the Whitehall, Mich. native traveled with other U.S. students to Panama with a group called Global Medical Training. From January 2 – 11, Bodenberg's group provided free health and dental care to citizens of Panama who lived in inaccessible areas and couldn't afford health care. For Bodenberg, the experience was very hands on. "On the first day of clinics we jumped right into work," says Bodenberg.
Working with Dr. Fabian, a local Panamanian dentist, Bodenberg learned to administer anesthetics and use basic instruments to pull teeth. "Dr. Fabian was always there to assist us in all of the procedures, but the experience was all ours. It really opens your eyes to the work of dentistry, and the idea of global medicine," says Bodenberg.
As a biology major, Bodenberg is considering going to either dental or medical school. Her trip to Panama gave her a chance to work with pre-med students as well, assessing patients' medical conditions, advising doctors of their diagnoses, and assisting patients with their medication.
Bodenberg says the best part of her trip was discovering that she really wants to go into the medical field. "I discovered that it is not about the money or status of being a doctor that appeals to me. I asked myself, 'What is the number one way that I can help others?' And my answer was, 'Through medicine.'"
Bodenberg says she chose Saint Mary's because of the basic principles of the College. "I attended a Catholic school from Kindergarten through 12th grade, and I felt that the ideals and goals of a private, religious based school really help students excel and develop in a nurturing environment," says Bodenberg. "I also wanted the small classroom setting and a close relationship with my professors."