Opening Scene
Opening Scene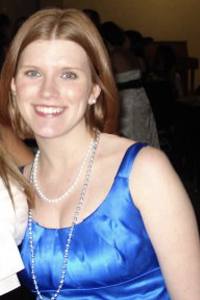 You could say Saint Mary's College senior Caitlin Morrison '09 is scripting her career one page at a time. The opening scene of her post-college life will be the Windy City where she'll begin a marketing internship at the Film Center in the School of the Art Institute of Chicago. While her future may seem like a mystery now, she's not feeling any drama. The Flossmoor, Illinois native knows that with her degree in communication studies, she can do just about anything.
"Because of the classes I have taken in my major, I feel I am able to write well and speak comfortably in front of people, which are great assets to have in any job. I think it is especially important to have a versatile degree in today's economy," Caitlin said. Her minors are public relations (PR) and psychology. While she is looking at public relations and marketing opportunities, "Eventually I would love to be a college counselor in a high school," she said.
Her favorite class here was mass communication law. "It was fascinating to keep up with current stories and look at how the legal system handled them," Caitlin said. Her favorite professor is Colleen Fitzpatrick. "Her classes are fun, engaging and students learn a lot about the PR/marketing field," she said. "As my advisor, she really took the time to help me succeed. You can tell she has a real passion for teaching here. Whether she is talking to students in her office, answering last minute questions through Instant Messaging or hosting spring barbeques at her house, she is always going above and beyond for her students."
One-on-one attention with professors is one of the reasons Caitlin chose to come to Saint Mary's. It also didn't hurt that she knew a lot of people who had attended the College or Notre Dame.
"A family friend had graduated from Saint Mary's College in 2001 and she loved it. Also, there are a lot of Saint Mary's and Notre Dame alumni in the Chicago-area, so I had a lot of alums encouraging me to look at the school," Caitlin said. "When I visited Saint Mary's as a high school sophomore, I loved it. The small class sizes really appealed to me."
In 2007 she was inducted into Lambda Pi Eta, the communication honors society. As a senior, this year she served as a Student Academic Council Representative for the Department of Communication Studies, Dance and Theatre. Caitlin also had opportunities to do two public relations internships-one at a hospital in the Chicago-area last summer, and one this spring in the College's integrated marketing communications department.
Now the stage is set for Caitlin to embark on her career. Good-bye, Saint Mary's. Hello, Chicago. Today, film center internship. Tomorrow? Stay tuned...