Opportunity Knocks
Opportunity Knocks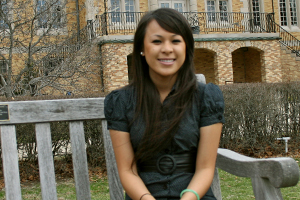 Social work major Natalie Bui '10 says she initially wanted to find a nursing program and "with luck" she found Saint Mary's College. She chose it for its intimate and small class size, and for its many accredited programs. For Bui, the best part of being a student has been access to all of the great opportunities at Saint Mary's. "From course options, to study abroad experiences, I keep finding new reasons why I love being a student here."
Bui has explored those opportunities, studying abroad in Mumbai, India, in the spring of 2008, an experience she says truly impacted the way she saw the world, and her place in it. "I was struck with realities that I have only read about in textbooks and seen on T.V.," describes Bui. "It was an unforgettable experience that has left me thirsty for more."
Bui is involved in a number of College affiliated clubs and activities. She is a resident advisor in Le Mans Hall, a student assistant at the Center for Women's Intercultural Leadership, a student ambassador for Saint Mary's College Admission, and she tutors 3rd and 4th graders at Coquillard Primary Center in South Bend. She is also a mentor for Forging a Path to Success mentoring program through Multicultural Services and Student Programs (MSSP). "This is a great program where I provide mentoring for low income and underrepresented first year college students and high school students," says Bui. "As a first generation college student, I understand the importance of education and the struggles one faces and I feel very privileged to be in a position to mentor and to help other students."
Bui is a leader in the making, having attended the Monster Diversity Leadership Conference in Orange Calif., the National Hunger Conference in Madison, Wis., and the LeaderShape Institute in Champaign, Ill. Her favorite class is feminist memoirs, with Professor Lily Hoang. "The dialogue that happens in that class is so liberating. I often find myself carrying class discussions outside the classroom, in the dining hall, and with my classmates or just my friends," says Bui. "There is something empowering about a group of women discovering what it means to be a woman in the 21st century."
Bui's future includes a year or two of service, followed by studies for a Ph.D. and becoming a professor, a goal inspired by her professor, Dr. Kathleen Dolphin, PBVM. "She is one of the major reasons why I decided to go abroad and she is one of the major reasons why I want to pursue a Ph.D. Her love for students and education is undeniable."