Organic Experience - Lindsay Burnside '08
Organic Experience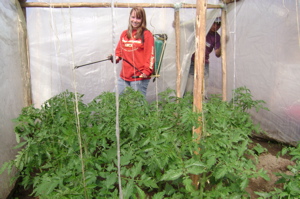 In the small Ecuadoran city of Cajabamba, people stand in the streets and talk with neighbors near the local markets. Lindsay Burnside '08 goes from shop to shop purchasing her weekly groceries and stopping to chat with people who now know her by name.
Burnside is living in Ecuador, working as an agriculture volunteer for the Peace Corps. She graduated from Saint Mary's with a degree in biology and found her passion in sharing sustainable practices with the people of Cajabamba.
There, she works with a local foundation, Fundacion de Desarollo Integral-Rescate Ecuador. She helps in acquiring funds to buy land and begin a Model Integrated Teaching Farm in Cajabamba. This is to provide a central location so that people from the surrounding communities can gather to learn new growing practices and share their experiences about organic farming, while also providing leadership opportunities for the indigenous of the heartland of Ecuador, according to Burnside. 
In addition, she travels to surrounding communities to teach organic agricultural practices. She works with one community in Santa Rosa teaching them about growing tomatoes and cucumbers in newly constructed, small greenhouses using organic techniques.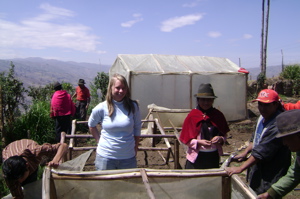 Burnside says her stint in Ecuador has encouraged her love of the simple things. "While what I am currently doing, I wouldn't classify as a career, it is helping to guide me to a way of living I wish to pursue when I return to the States, a style that is more simple and organic." 
Burnside buys all her groceries, freshly grown and harvested, at the local markets. She takes public transportation everywhere, and there is a much more personal feel to the town, she says. "People stand on the streets and chat with the neighbors or just anybody walking by sometimes!"
When she returns to the U.S., Burnside plans to attend graduate school, though she hasn't yet decided what her focus will be. "What I love the most [about science] is nature and learning more about how we are living within the world—and the discovery of new things! It's all so exciting!"
In the meantime, she's working hard to make a difference in the Ecuadoran community that has become her home away from home.