Our Summer Down Under
Our Summer Down Under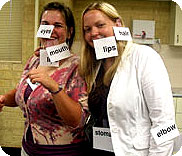 It's a long, long way from Saint Mary's to Perth, Australia—11,028 miles, to be exact. But to learn about other cultures, sometimes you have to go the distance, as seniors Chelsea Gulling and Kirsten Kensinger discovered this summer.
Armed with a big dose of curiosity and a small grant from the Center for Women's InterCultural Leadership, the two headed down under in June. Chelsea (a sociology major) and Kirsten (Humanistic Studies) share an interest in indigenous cultures and a minor in women's studies. So they began their adventure in the southwestern outback, where many aboriginal people live.
In Kalgoorlie, they interviewed women elders and service providers and visited aboriginal camps to gain a better understanding of local conditions. But they made the deepest connection hanging out with a family of indigenous musicians who had made Kirsten a didgeridoo.
"It was just a beautiful day because when Chelsea and I started doing this, everyone was really receptive and open to us—but at the same time there was hesitancy and caution," says Kirsten. After a curry lunch, an impromptu musical concert, and an afternoon sitting around in lawn chairs telling stories, the barriers melted away.
Next stop was Mirrabooka (outside Perth), where the two did a month-long internship at Ishar, a health center serving immigrant women. "The internship was really basic, but at the same time it was cool because we got to interact with a lot of amazing women," says Kirsten.
By day, they did office work and gave English lessons to Sudanese refugees. By night, they helped out with Ran Away, a stage production in which women from Iran, Singapore, Croatia, Macedonia, India, and Argentina told tales of arrival and assimilation in Australia. "None of those women spoke English as a first language," says Chelsea. "But they were just so patient with each other, and they respected everything that everyone had to say."
What impact will the experience have on them at Saint Mary's and beyond? "I think it will really help us in our leadership skills, as we try to emulate that inclusiveness and respect," says Kirsten.
"I just really learned the value of diversity and the value of maintaining and sharing culture," adds Chelsea. "I've never in my life been in a group of people that is so culturally diverse. I learned about taking everything on a human level … and I have a better understanding of the way things work."