Outside the Comfort Zone
Outside the Comfort Zone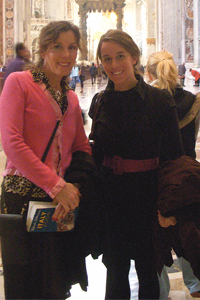 Eileen O'Brien Metzger '84 with
daughter Kristen Metzger '11
For junior Kristen Metzger, it's all about family and tradition. The native of Indianapolis comes to Saint Mary's from a rich lineage of Saint Mary's alumnae including her mother, aunts, and cousins. "I have been wearing Notre Dame and Saint Mary's gear ever since I can remember," says Kristen. Although tradition may have been a motivator, it wasn't the only reason for Kristen's college choice. "I also chose Saint Mary's because of the Catholic aspect. Surrounding myself with people that believe in the same faith has helped me grow in my own relationship with God."
Family is a high priority for Kristen, and even though she is away at College, they are not left behind. "I love how Saint Mary's plans functions, such as Little Sibs, Junior Mom's weekend, etc., because it allows the students to hold onto that close family bond."
Kristen says her favorite part about being a Saint Mary's student is the "pay-it-forward" attitude she sees in professors, staff, and students. "People are willing to go above and beyond to help one another, and it has been such a rewarding experience thus far."
Kristen is part of the pay-it-forward atmosphere, volunteering and participating in a number of activities both on and off campus. The elementary education major participated in Read-To-A-Child at Perley Elementary School in South Bend. She observed a second grade Explorer's class at Muessel Elementary School, acting as a teacher's aid, preparing materials and helping out where needed. Kristen has worked with Dance Marathon, helping to raise funds for Riley Hospital for Children. She also started Invisible Children, a new club at Saint Mary's. The club's goal is to raise awareness about the children in Uganda, and to help raise money for their schooling. She has been a member of a number of other organizations and was the president of Students Encouraging Religious Vocations club. Kristen's generosity extends outside of Saint Mary's where she has independently tutored middle school children every summer, worked in soup kitchens, and helped with food drives.
Even with all that she does, Kristen was still able to study abroad in Rome in 2008. "Professor [Peter] Checca really pushed me to study abroad and encouraged us to take advantage of the opportunity offered through Saint Mary's. I was hesitant to leave my friends and family behind, but Professor Checca eventually persuaded me to take a risk by studying abroad," says Kristen. "With his upbeat personality and his adorable stories from Rome, who could resist wanting to study over in Italy?"
The future elementary school teacher says her favorite class is Education 220, where they learn how to integrate technology into the classroom. "I love this class because each week the teacher introduces exciting new programs that we can use in our classrooms," says Kristen. But before she enters her classroom as a teacher, Kristen is considering a few other plans, including travel and mission trips.
"Reaching out to others outside of my comfort zone has made me more aware of how blessed I am. The more service I do, the less I take for granted and the more appreciative I am of all of the wonderful things in my life."