Party Leader
Party Leader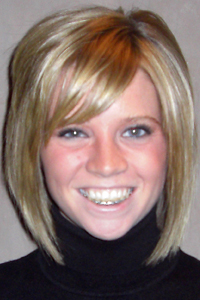 At a time when all eyes have been on the Democratic presidential candidates as they crisscross Indiana in search of votes, the Republican party has taken a backseat. This in no way deters Erin Horvath, president of the College Republicans; she's in the driver's seat and she's on a mission: present the Republican agenda on campus in such a way that students can voice their opinions. "We attempt to bring conservative/Republican viewpoints to campus," says Horvath.
The South Bend native and Saint Mary's senior says she decided to attend Saint Mary's because she wanted small classes with opportunities for one-on-one interaction with the professors. "I was also attracted to the mindset on campus. It seems as though every student here is very focused and driven. That kind of drive only encourages me to do better in my studies," explains Horvath.
Horvath became involved with the College Republicans after working on local mayoral candidate Juan Manigault's campaign. Encouraged by her mother, Horvath has been interested in politics since she was a child. "We used to listen to Rush Limbaugh on the radio every day. Since then, politics has served as an important part of my relationship with my mom. We love to talk and debate politics with one another," says Horvath.
Horvath, who will be College Republicans president next year, will be working to get students on campus more politically active. Her group will work on voter registration, get out the vote campaigns, helping members get internships on local Republican campaigns, and "hopefully bring some Republican speakers to campus," says Horvath.
Horvath currently works as the productions manager for the Review of Politics, a publication of the University of Notre Dame. This summer she'll be interning at WRTV-6 television in Indianapolis. The political science and communication studies major isn't considering a political post for herself. "I have so much respect for those willing to run for office," Horvath explains. "Instead I am hoping to get into broadcasting. That way, I can report on political issues instead of being directly involved."
Erin Horvath was recently featured on the FOX Report with Sheppard Smith.
Saint Mary's College does not endorse political candidates.